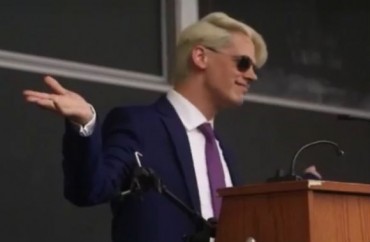 Yiannopoulos says he's bringing a Navy SEAL security detail to campus 
Hours after POLITICO published an article reporting that UC-Berkeley's impending Free Speech Week was "in doubt," anti-feminist provocateur Milo Yiannopoulos took to Facebook Wednesday morning saying that claim is "fake news."
In his post, Yiannopoulos called out assistant vice chancellor for communications Dan Mogulof for "spreading rumors" about the status of the event, which is scheduled from Sept. 24 to 27.
"Ironically, Berkeley is fighting Free Speech Week the same way they fought against Mario Savio's Free Speech Movement in the 60's — by spreading fear, uncertainty, and doubt. Mogulof has a long history of hostility, leaks and lies when it comes to conservative speakers," Yiannopoulos said.
Yiannopoulos, whose appearance at UC-Berkeley earlier this year sparked riots, said the planned events will go on as a "fabulous, and peaceful, celebration of free speech including more than 20 speakers from diverse viewpoints."
Yiannopoulos told POLITCO that he, conservative commentator Ann Coulter and former White Chief Strategist Steve Bannon will speak at UC-Berkeley on Sept. 27.
However, Mogulof told POLITICO that the Berkeley Patriot, the conservative group sponsoring the Free Speech Week, "still has not completed the critical steps" to put on the event.
In a statement provided to The College Fix on Wednesday, Mogulof acknowledged that Yiannopoulos and Bannon have publicly said they'll be speaking at UC-Berkeley but also said the Berkeley Patriot has not confirmed contracts between the student organization and the speakers.
"In addition, the tentative information the student group has shared with us about the scheduling of the proposed speakers conflicts with information that has been shared publicly by Mr. Yiannopoulos," he said.
The spokesman also said the Berkeley Patriot has missed multiple deadlines regarding campus security needed for events that are slated for indoor campus venues.
"Simply put, the University cannot provide the security and support the student organization has requested, and the campus wants to provide, if we do not receive the essential information," Mogulof said.
However, in his Facebook post, Yiannopoulos said he would be providing security for the events.
"Our efforts are moving ahead at full speed to put together the best free speech event Berkeley has ever seen. I am sparing no expense, including a 16-man Navy SEAL security detail for me and our speakers," he said.
Additionally, the Berkeley Patriot's Bryce Kasamoto told POLITICO that the group is "working diligently to answer any requests that the university might have."
The UC-Berkeley Free Speech Week has drawn criticism from some since the announcement of the event and Berkeley mayor Jesse Arreguín recently called on the public university to cancel the events amid concerns over safety.
The university will host conservative speaker Ben Shapiro on campus on Thursday.
Read the full Facebook post from Yiannopoulos.
MORE: UC-Berkeley to offer counseling to students, faculty traumatized by Shapiro appearance
Like The College Fix on Facebook / Follow us on Twitter
IMAGE: YouTube screenshot