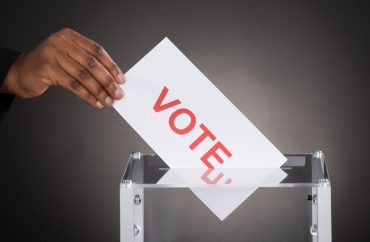 A mysterious candidate slate clobbers the competition
When University of Kansas race activists felt their voices weren't being heard in student government, they petitioned for their own minorities-only student government – the first in the country.
Their minority peers at the University of Wisconsin-Madison took a different route: working within the system and taking over the historically white-dominated student government.
The "Blind Side" slate won a majority of seats in Associated Students of Madison elections in March. It's a collaboration of the UW Blackout Movement, Wisconsin Black Student Union, Students for Justice in Palestine and religious coalitions.
The slate focuses on "diversity issues and resource allocation for underrepresented communities here on campus," it told the United Council of UW, a statewide student organization that lobbies for progressive policies in the UW System.
According to the Daily Cardinal, Blind Side candidates were "delegated" 19 seats out of 29 and two out of three seats on the powerful Student Services Finance Committee, which distributes student funds.
Communications Manager Donale Richards told the student paper the group focuses "on what it means to be an underrepresented community here on campus," with a platform "centered around" race, ethnicity, sexual assault and disability.
Their victory was all the more remarkable because the movement started only a month before the election, and "focused on getting endorsements from student organizations, as well as participating in leadership and developmental activities to better spread the word about their platform," the paper reported.
The slate is slippery
Part of the slate's power appears to come from its aura of mystery. In contrast to the Daily Cardinal's report, other post-election accounts say either 16 or 17 Blind Side candidates were elected. The College Fix could not find a single authoritative list of how many ran and were elected.
One graphic that circulated on Facebook lists 17 candidates on the ballot – three of whom ran for positions on the finance committee as well as their own school within UW-Madison – and six more running as write-ins. Yet the election results page only names 14 winners who are listed on that Facebook graphic, possibly 15 depending on a name variation.
After the student government elected its leadership chairs on May 1, The Badger Herald said that "it is believed many members were backed by the Blind Side Slate. … The group refuses to name the number or names of members who ran for positions with Blind Side support." The paper quoted Sustainability Coordinator August McGinnity-Wake as saying the Blind Side is the most powerful slate in recent history.
The Black Voice, a minority student publication, reported that Blind Side leaders "anticipate other campuses in the UW System observing their strategies and results and eventually executing such techniques on their own campuses."
RELATED: Student leaders buy off race activists with $90,000 for their own 'multicultural' government
Tyriek Mack, elected to both School of Education and finance committee seats, told The Black Voice that he wants to use student funds to improve recruitment of "underrepresented students" and "gain economic justice and resources," not to impose "political correctness."
ASM voter turn out increased 53 percent in 2016 electionhttps://t.co/hxWASCvAN2 pic.twitter.com/jTVATnALJm

— The Badger Herald (@BadgerHerald) March 10, 2016
Mack, Richards and two other winning candidates – Kenneth Cole and Alexa Bertz – did not respond to Fix queries.
Some faculty seem to be piggybacking off the success of the social justice-oriented slate and racially charged campus incidents in 2016.
Directors of ethnic and indigenous studies programs at UW-Madison asked Chancellor Rebecca Blank on April 25 for 13 new tenured and tenure-track positions, new staff for each of the four ethnic units and funding for teaching assistants and "administrative support," which could turn into a full-blown institute for their programs, The Capital Times reported.
The directors said they "stand in solidarity with students who have persistently and courageously demanded change on this campus" in response to "long-standing racial inequities at UW-Madison."
No Education Without Representation
The events at UW-Madison come in the midst of broader conversations about race on campus and disillusionment with official channels for change.
University of Kansas Chancellor Bernadette Gray-Little, who is black, vetoed the student senate's decision to fund the nascent Multicultural Student Government (MSG) with a $2 fee increase for students.
RELATED: Chancellor vetoes 'multicultural student government': violates state law, divides people
"I believe that the independent student government proposed in the document sent to the University Senate is not an optimal way to achieve the goals we have for diversity and inclusion at the university and, indeed, may lead to greater divisiveness," wrote Gray-Little to the student senate leaders.
Despite the administrative obstacle, student advocates are determined to continue in their pursuits.
"This hurts, because we are the marginalized students who know there is a need for this resource," said Trinity Carpenter, a KU student and MSG secretary. "It's even harder to accept because they have admitted there is a need for this institution and are not supporting it."
Reps from MU ask question to Chief of Staff Adam Moon. @KansanNews @KUSenate #kuss #ku @KU_OMA pic.twitter.com/7DXRkVG7Hb

— Alex Robinson (@arobinsonfilm) March 10, 2016
The push for an MSG started last fall, months before UW-Madison activists united under the Blind Side slate to show that students who consider themselves marginalized can win at the university-wide ballot box.
Butch Oxendine, executive director of the American Student Government Association, told Inside Higher Ed that it may be wiser for the minority students at KU to run for existing student government offices than pursue a parallel government.
"To me, this hearkens back to separation and Jim Crow days," Oxendine said. "Why not work within the system and then try to get the current government to evolve and change?"
Advocates said that accusation that they want to segregate themselves "dismisses the inherently unequal power structures" at the university.
RELATED: Mizzou officials are so sick of black student activists they start hiding from them
Concern about accessibility to student government is not new. One of the claims among KU students pushing for an MSG is that the increase in spending maximums for student senate campaigns is biased against low-income students.
In February a University of Florida alliance called Not My System released a video that went viral, arguing that the student government system was rigged against minorities.
Former chief of strategy Sabrina Phillips explained how Greek chapters communally decide who should run and then pressure their members to vote a certain way, privileging the white upper-class students who are more associated with Greek life. Several years ago, Delta Phi Epsilon supposedly told the "baby pledge class that they couldn't eat until they went and voted."
The student government at the University of Alabama, the only state school lacking a diversity or multicultural office, has also been accused of corruption because its fraternity-dominated system known as "the Machine" has so much sway over campaigns.
Sometimes marginalized students themselves are accused of stacking the deck.
Last year a UCLA student was initially denied a judicial role in student government because of her Jewish identity, following a campaign by Students for Justice in Palestine to disqualify senators who were involved with Jewish groups from voting on a boycott, divestment and sanctions resolution.
RELATED: Is University of Wisconsin-Madison the next Mizzou? Some say 'race war' brewing
RELATED: UCLA student told she could not serve – because she is Jewish
Like The College Fix on Facebook / Follow us on Twitter
IMAGE: Andrey Popov/Shutterstock