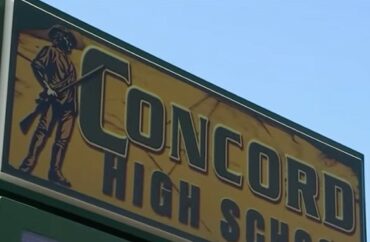 School board members criticized firearm, lack of inclusivity
A California high school can no longer use the "Minuteman" mascot after district leaders dropped the character due to its use of a firearm and concerns about it being offensive.
"In a 4-1 vote, the Mount Diablo Unified School District board voted [on Aug. 16] to approve a recommendation to change the Concord High mascot from the 'Minutemen' to the 'Bears,'" NBC Bay Area reported last week.
Concord, Calif., shares a name with Concord, Mass., the site of the Battles of Lexington and Concord during the America Revolutionary War.
Changing the school's mascot will cost $200,000, according to the NBC affiliate.
"If changing a mascot will make students feel welcomed, embraced and empowered them to participate more at the school, then I will support this," Mt. Diablo Unified School board member Linda Mayo told the news outlet.
The mascot change committee "expressed concerns about the mascot including the portrayal of the minuteman showcasing a firearm," the outlet reported.
However, one school mother interviewed said the funding should go elsewhere.
"The school is in disrepair," Lynette Dashner told NBC. "I mean there's dirt, rocks, squirrels all over the place," she said.
Concord High Principal Julene Mackinnon cited symbol's "brutality" despite her own history in the military.
"I'm a former minuteman. That's my history. I went to school here, graduated class of '91 but I also want to make sure that we have a mascot that represents everyone," Mackinnon said.
However, another parent said the symbol represented a range of groups.
"Minutemen had a proud history; they weren't just men, there were women, there were African Americans," Julie Lyster told the outlet.
A "minuteman" is an American Revolution-era militiaman who pledged "to be ready for military duty 'at a minute's notice,'" according to Britannica.
But the term has been used since to describe other military groups, according to the U.S. Air Force.
"Retired Col. Linda Aldrich was one of the first women to break through the glass ceiling, or in this case glass floor, and serve on an all-female Minuteman II missile crew underground in the mid-1980s," according to the Air Force website.
As of April, the district had been trying to change its mascot for over a year, "following a district decision to replace human mascots for non-human mascots" in 2021, NBC reported April 25.
A majority of 1,100 students surveyed chose "Bears" as an alternative.
Some parents had aimed to "merely modify the image, by eliminating the weapon and adding a woman to keep a symbol they believe shows their patriotism," according to NBC Bay Area.
MORE: New College mascot like an 'angry, threatening brown' person: activist
IMAGE: YouTube/NBC Bay Area
Like The College Fix on Facebook / Follow us on Twitter