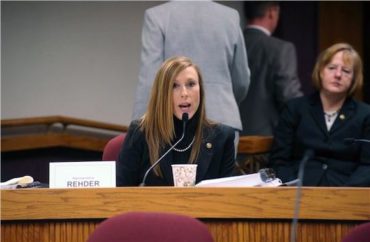 UPDATED
Legislators voice support, but may wait for national Title IX changes to take effect
In November 2017, Holly Rehder published her #MeToo story in the St. Louis Post Dispatch.
"There's power in telling. Whether you receive justice or not," the Missouri state representative wrote, sharing her sexual abuse at the hands of her grandfather.
"For every person out there, young or old, what you are going through, or what you have been through, does not define you," she urged readers. "Find your voice. Tell someone. Even if your abuser is someone you love. Their power lies in our silence."
Alongside her experience, Rehder also supports stronger due-process protections for accused students in campus Title IX proceedings.
In a phone interview with The College Fix, the Republican opened up about why she's cosponsoring legislation that would make significant overhauls to Title IX procedures.
She has been on multiple sides of the issue, both as a victim and as a parent. "We should never be, as Americans, accepting of removing due process – we are innocent until proven guilty," Rehder said.
"Although I very much understand the other side of this and want people prosecuted when they have harmed someone, certainly there's a way to do that … without removing someone else's rights before they've even been convicted."
Rehder said the mantra of believing all women is a disservice to victims such as herself. "I think it very much … diminishes what we've been through to just say we're going to blanketly believe everyone."
While the #MeToo movement has been hugely important to create new norms – to convince victims to speak up by default – it should not come at the cost of removing someone else's rights before they've been convicted, she said.
This sentiment was echoed by other Republican female legislators who spoke with The Fix by phone.
"Title IX has been expanded to too many things that were not its original purpose," Rep. Cindy O'Laughlin said. She cautioned against making universities judge and jury on this issue, stressing that a university "is not a court of law."
O'Laughlin has four sons and worries about an environment that leads to manufactured complaints. "These cases should be turned over to the appropriate authorities," she said.
While the House (HB 573) and Senate (SB 259) bills have backing from outspoken lawmakers such as Rehder, and the Republican Party holds majorities in both chambers and the governorship in the state, their immediate future is unclear because of parallel activity at the U.S. Department of Education.
A potential timeline for the bill could be two or three weeks before debate on the floor, but legislative leaders in the House are waiting for the release of new sexual misconduct rules from Education Secretary Betsy DeVos*, said Rep. Rebecca Roeber.
Rep. Peggy McGaugh believes the bills track with the federal government's proposed revisions to Title IX procedures, but her supportive House colleagues may wait for the final federal regulations before proceeding with a vote.
She told The Fix she hopes other states will follow Missouri's example if the bills become law. The sponsors of both previously expressed optimism to The Fix that they would pass.
The Department of Education's proposed overhaul received significant public backlash in comments filed, and those sentiments are reflected by Missouri House Minority Leader Chrystal Quade.
"I am completely against" the state legislation to overhaul Title IX proceedings, the Democrat wrote in an email.
"This legislation destroys protections for sexual assault survivors, creates a terrible definition of consent that conflicts with federal law and also puts our federal financial aid in jeopardy," Quade wrote. "We are watching it closely and will fight it every step of the way."
One public advocacy group is citing the possible conflict between pending federal regulations and Missouri's procedures if the legislation is signed into law.
"Our overarching concern" is that "changing the state law now runs the risk of having conflicting guidance or incompatibility between state and federal requirements," Paul Wagner, executive director of the Council on Public Higher Education, wrote in an email to The Fix.
His organization is in dialogue with the bills' sponsors. The General Assembly should "hold off on new legislation until the federal requirements are finalized, and then at that point the state can evaluate what it likes and doesn't like about the federal rules the universities have to follow," Wagner said.
It's unclear whether the university system's flagship campus would support or oppose the legislation. It appears to be opposed, judging by the comments of Donnell Young, assistant vice chancellor for student engagement and success.
"It could silence some students, one that was already afraid to go through the legal process anyway, but it can also stop them from going through a university process because they don't want the double taxation of going through the process," Young told The Columbia Tribune.
Young and Mizzou spokesman Christian Basi did not respond to multiple email inquiries about the university's official stance on the bill.
MORE: Proposed legislation emphasizes due process
IMAGE: hollyrehder.com
Correction: The article previously misidentified an aspect of Rep. Rehder's story. Her published story told of her abuse at the hands of her grandfather, not her father. It has been updated.
Like The College Fix on Facebook / Follow us on Twitter