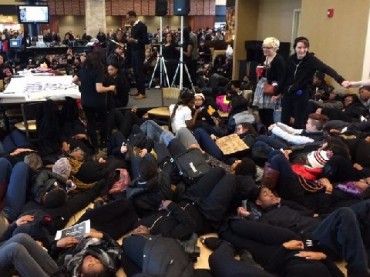 Columbia, MO. — Organizers of a recent Ferguson protest at the University of Missouri requested "only people of color" take part in the event's "die-in," one element of a larger demonstration that prompted at least two classes to be shelved so students could participate.
"During the demonstration we will hold a 'die-in' in the student center. We are asking that only people of color be the ones to do so," event organizers stated in an email obtained by The College Fix. "We are asking non-people of color to stand holding hands in solidarity."
"The 'die-in' is meant to represent black bodies that are killed unjustly. It was requested that others stand in a circle holding hands," student Ebony Francis told The College Fix in a telephone interview.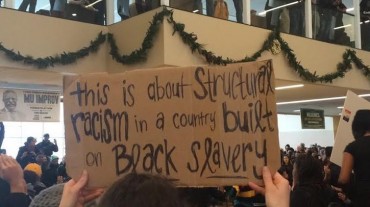 Tuesday afternoon's rally attracted hundreds of students and faculty and lasted more than 90 minutes as participants vented frustration over the decision by a grand jury to not indict Police Officer Darren Wilson for the shooting death of Michael Brown.
(At right, a photo taken at the University of Missouri's protest)
The "die-in" – a play on "sit-in demonstrations" popular at universities – was 4 1/2 minutes of silence to represent the 4 1/2 hours Brown lay dead in the street after Wilson shot him. During the die-in, a large group of black students laid on the ground, although a couple of white students still took part despite organizers' instructions.
According to comments on social media, at least two classes were essentially canceled so students could take part in the demonstration, which began with a "walk-out."
Organizers asked the campus community to leave "classrooms and offices with their hands up and meet us in the Student Center at 12:00pm to move in solidarity and inform this campus and our community that we will not tolerate injustice against black and brown lives," according to organizers' email.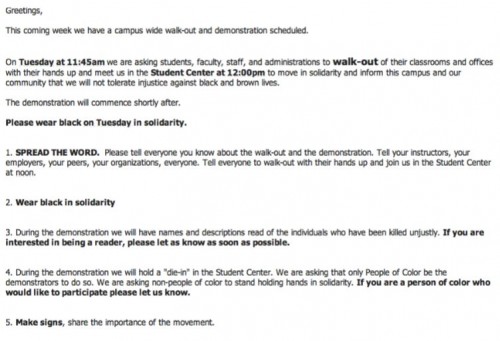 Junior Daniel Beaman told The College Fix his psychology class was shelved Tuesday as a result. He said his professor invited students to participate in the walk out and, although the scholar did not leave the classroom, did not offer a lecture.
"I paid for my class. I don't want to cut it short, so I don't want to leave early unless I absolutely have to," Beaman said in a telephone interview.
When asked what he thought of organizers' stipulation that only people of color be involved in the "die-in," Beaman, who is white, said "if they are trying to make a message that is against racism, I think they may have failed. The email makes it appear as if white people are not victims of police brutality. Like it's only a black issue."
During the protest, organized by representatives from the Legion of Black Collegians, MU NAACP, and MU4MikeBorwn, participants chanted slogans such as "Black lives matter!" and "No racist police. No justice! No Peace!" and read the names of black people who have been killed in acts of violence by police and civilians.
Senior Naomi Daugherty, student leader for MU4MikeBrown, gave a speech that included a "white privilege checklist," citing examples of instances where whites received advantages not afforded to black people.
"If you aren't afraid to bring children into this world because they might be killed for being black, you have white privilege," she said, according to the Missourian.
The University of Missouri is not the only campus at which white students have been asked not to play a role in Ferguson demonstrations. "White folks" in Massachusetts were asked to keep their hands down at a campus walkout Monday afternoon, Campus Reform reports.
College Fix contributor Christopher White is a University of Missouri graduate student and an editorial assistant for The College Fix.
Like The College Fix on Facebook / Follow us on Twitter
IMAGES: social media screenshots