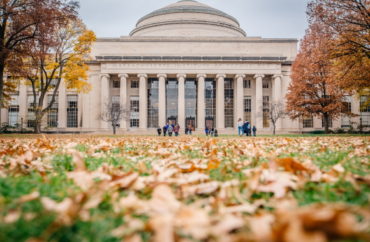 'There is no path through MIT that does not rest on a rigorous foundation in mathematics, and we need to be sure our students are ready for that as soon as they arrive' 
The prestigious Massachusetts Institute of Technology will reinstate mandatory submission of standardized tests for admissions decisions, bucking a national trend of schools forgoing such examination requirements.
The university announced the move March 28 in an extensive blog post that went into detail about the reasons behind the decision. This marks a shift from the university's decision to go test-optional during the height of the COVID-19 pandemic.
After extensive research, the university determined that the SAT and ACT help gauge the preparedness of applicants and expands opportunity to low-income students.
"Our research shows standardized tests help us better assess the academic preparedness of all applicants, and also help us identify socioeconomically disadvantaged students who lack access to advanced coursework or other enrichment opportunities that would otherwise demonstrate their readiness for MIT," Dean of Admissions and Student Financial Services Stuart Schmill said in the announcement.
Schmill argued that the SAT helps the university "accurately predict student academic success at MIT⁠" and this would "raise socioeconomic barriers to demonstrating readiness for our education."
The decision seems to be heavily driven by the university's incredibly rigorous curriculum, which includes multiple semesters of calculus, physics, chemistry and biology, according to the announcement.
"There is no path through MIT that does not rest on a rigorous foundation in mathematics, and we need to be sure our students are ready for that as soon as they arrive," Schmill wrote.
Schmill noted that getting rid of standardized testing hurts underrepresented minorities because they "often do not attend schools that offer advanced coursework (and if they do, they are less likely to be able to take it)."
The prevailing narrative against standardized testing has been it's unfair to low income and underrepresented minority students because they can't afford tutoring.
Research indicates that the SAT only has a .25 correlation with socioeconomic status. While significant, it means that the vast majority of the testing outcome differences cannot be explained by socioeconomic status.
"I have a hunch that MIT's decision was driven by competitive pressure, namely, that its arch-rival for science supremacy in academia—CalTech—might start to leave MIT conspicuously behind if MIT continued down the road to politically correct admissions practices," argued UC Berkeley Professor Steven Hayward on Powerline.
"CalTech has never embraced affirmative action admission dogma, and hence has a larger Asian student body than peer universities. (I've also heard rumors that a few MIT trustees are restive about creeping wokery in MIT's prestige science departments, which would be rare if so, as college trustees are selected precisely for their spinelessness as much as college presidents are.)"
UC Berkeley, where Hayward teaches, decided to no longer consider standardized tests in admissions despite their task force recommending that the exams be kept.
The University of California system task force in 2020 came to the same conclusion as MIT's findings about the tests.
"It found that standardized tests are better predictors of a student's success in their first year at UC schools than their high school grade point average The tests are also a more accurate measure of first-year retention and graduation rates than high school grades," FOX 11 reported at the time.
"Many universities and colleges around the country have made standardized tests optional for admission, but the task force said it did not recommend that for the UC. It expressed concern that students with high scores would submit them and ultimately have an advantage over applicants who don't. Ultimately, the task force did not feel that creating an optional test system would promote more diversity."
Reached for comment, the MIT Free Speech Alliance said it does not take a position on standardized testing at the school.
MORE: University System of Georgia reinstates ACT, SAT requirement
IMAGE: Papercat / Shutterstock
Like The College Fix on Facebook / Follow us on Twitter