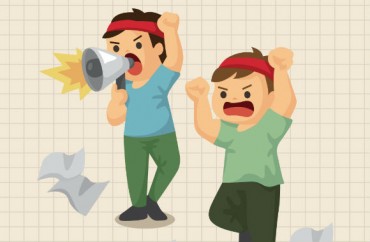 Making exceptions for the football program?
Earlier this summer, the University of Missouri's Faculty Council approved the "Commitment to Free Expression" that was drafted by its Ad Hoc Joint Committee on Protests, Public Spaces, Free Speech & the Press.
Earlier this week, several faculty made clear that their "commitment" had an asterisk attached.
University leaders now tasked with reconciling Mizzou's public-spaces policy with the First Amendment – a tension revealed by last fall's protracted campout by race protesters – got an earful from faculty at an open forum Tuesday.
They complained that the proposed "content neutral" restrictions on protests actually had racist intentions, and that Mizzou seemed to be exempting its football program from the proposed rules.
The university apparently did little outreach for the forum, which drew about 40 people, mostly faculty. Students did not receive an email about it, and a reporter for local TV station KRCG told The College Fix that it didn't get a press release from the school.
These restrictions would have banned Mizzou's successful '80s apartheid divestment movement: https://t.co/VawCWhh7kp pic.twitter.com/pBS5k75v6q

— Matt Pearce (@mattdpearce) August 31, 2016
'A lot of people' didn't know the rules
The ad hoc committee was created earlier this year by Faculty Council Chair Ben Trachtenberg and interim Chancellor Hank Foley.
"One of the issues that kept getting raised" during last fall's racial and social-justice protests by Concerned Student 1950 "was there were a lot of people who often didn't seem to know the rules," Trachtenberg told the forum, referring to protesters.
MORE: Shut down hecklers when 'serious disruption' is expected
Administrators routinely allowed racial protesters to flout the rules on the books, as shown by emails first published in April by Heat Street.
Committee Chair Bob Jerry emphasized that proposed restrictions on the use of public space are "content neutral" – not designed to suppress any particular viewpoint – and that "safety" and intellectual pluralism drove the committee's decisions.
The proposed restrictions, first released in June, are based on the committee's review of "policies and regulations on public space and free expression" at 40 universities, according to a May letter by Jerry. They are also informed by Mizzou's existing policies that forbid demonstrations that "disrupt University function[s]" such as lectures and private group meetings.
Jerry said that the draft policy also received feedback from students; he specifically named CS 1950 original member Maxwell Little.
You only care when 'black kids pick up the megaphone'
The recommendations prescribe the enforcement of an infrequently used 1949 policy prohibiting university spaces from being "occupied as living rooms or bedroom[s]," and certain outdoor areas would require a permit for use. Jerry said that policy was last amended in 1988.
Use of any voice amplifier, such as a megaphone, that "prevents or disrupts academic activities or operations" would also be prohibited.
MORE: Mizzou might finally enforce its ban on protest camps
Attendees of the forum seized on that specific proposal, suggesting it was crafted to squelch race protesters.
"The use of megaphones in itself – to me – does not seem to be 'narrow,' 'direct' or [have a] 'significant' effect on the university's business," said Jeff Rouder, a psychological sciences professor, quoting the interim committee report approved by the Faculty Council.  "But when the black kids pick up the megaphone, all the sudden, megaphones" are banned.
"Those kids [in Concerned Student 1950] had that protest, and the only threats to this university community came not from those protesters but from the people outside, like the person who called in the Yik Yak threats."
Rouder was referring to a man who was charged with making a "terroristic threat" against Mizzou for posts on the social media app Yik Yak in the midst of last fall's protests. One of the posts told people who are "alright" to avoid campus the next day.
No preferences for tailgating
Department of Religious Studies Chair Richard Callahan asked how the policy on temporary structures would affect tailgating at Mizzou Athletics events. Jerry said he believed that a paid permit process for tailgating would address the university's safety requirements.
(Callahan's wife, former communication professor Melissa Click, ignited a free speech debate last November when she was filmed calling for "muscle" to remove a student journalist from the gathering that formed when UM System President Tim Wolfe resigned.)
Committee member Todd Houts, director of environmental health and safety, acknowledged that some of Mizzou Athletics' existing policies, including those regarding tailgating, were "inconsistent" with those on the books in the UM System and on campus.
MORE: Abortion activists hijack event with anti-Planned Parenthood lawmaker
But Houts said the committee was working to bring Mizzou Athletics' policies "into line" with the overarching policies in time for football season.
"So basically you're trying to engineer where people can stay over for a football game but can't stay overnight to protest racial injustices," Rouder said. "I think it becomes too convenient."
In an email to The Fix Wednesday, Houts said the "inconsistencies" had been addressed.
"The specific problem I had identified was that the portion on tents/canopies did not specifically prohibit staking of such structures," Rouder said. "I'm pleased to report that has been corrected."
In Mizzou Athletics' latest advisory, "staking is prohibited" at tailgating events.
Journalism Prof. Sandy Davidson, a committee member, proposed that overnight demonstrations could be allowed under an amended proposal, when the act of camping presented a "distinct message" that couldn't reasonably be expressed by any alternative means.
A second forum will be held Sept. 19, intended to incorporate solutions to concerns that have been raised thus far about the proposed MU policy.
The Faculty Council will decide this fall whether to recommend that interim Chancellor Foley approve the recommendations as policy.
EDITOR'S NOTE: The author filed an assault complaint against Melissa Click for her behavior toward him at the Concerned Student 1950 protest on public property in November. Click agreed to community service and probation in return for the city prosecutor dropping the charge.
MORE: University orders students not to wear Indian tailgating shirt
Like The College Fix on Facebook / Follow us on Twitter
IMAGES: notkoo/Shutterstock, Jeff Rouder/University of Missouri, Shutterstock