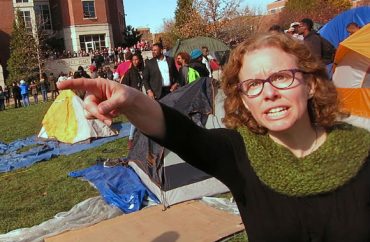 The University of Missouri is closing seven dorms next year because of a massive enrollment plunge, and now the austerity is extending to the campus bureaucracy.
The St. Louis Post-Dispatch reports that Mizzou is eliminating 400 positions following budget cuts and a projected 7.4 percent drop in enrollment:
Mizzou has already said it is expecting its smallest freshman class in two decades. The enrollment drop discussed Monday is the first estimate pertaining to the the school's entire enrollment.

The loss of students would result in about $16.6 million less in revenue. Leaders hope to make up about $7 million of that through a 2.1 percent increase in tuition.
The figures came out at a campus forum Monday where leaders tried to blame the plummeting enrollment on "the declining number of high school graduates across the region" in addition to the November 2015 campus race protests.
Interim Chancellor Garnett Stokes said at the forum the school would create a committee dedicated to giving Mizzou an "image overhaul."
The job cuts are falling hard on staff:
Some non-tenure track faculty are also expected to not have their contracts renewed. The reductions also include 175 to 200 people expected between retirements and loss of non-tenured faculty. Another 175 to 200 vacant positions would be cut through attrition.
MORE: Mizzou enrollment plunge means several dorms closing
Like The College Fix on Facebook / Follow us on Twitter
IMAGE: Mark Schierbecker/Wikimedia Commons