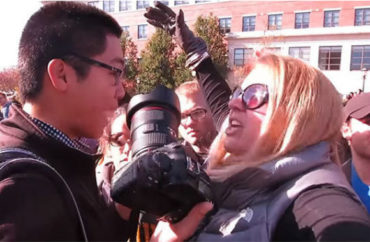 School confirms her position is gone – but not her
Where in Mizzou is censor Janna Basler?
Director of the Office of Greek Life when she bullied and intimidated student journalist Tim Tai for doing his job – covering the race protests that swept the University of Missouri nearly two years ago – Basler was the subject of a formal complaint by a journalism professor who said she "tried to incite a riot."
That didn't stop her from getting promoted to associate dean of student life last fall. Now, it appears Mizzou's financial woes have given the school an excuse to can the remaining employee who attacked journalists in November 2015.
Basler's profile disappeared from a staff page in the wake of a departmental reorganization that merged part of the Division of Student Affairs into the Division of Operations, a move intended to save $1.5 million.
MORE: Janna Basler 'tried to incite a riot,' professor complains
"One assistant vice chancellor position, three director positions, one senior associate director position and two administrative support positions" were axed, the Columbia Missourian reports:
University officials expect a reduction in 10 to 15 positions during the restructuring due to a combination of voluntary departures and layoffs, according to [spokesperson Christian] Basi. This alone was expected to save the university approximately $750,000.
Basi declined to say who got laid off, but Basler is the only "senior associate director" listed on Google's Wednesday morning cache of the Student Life staff page.
The disappearing profile was first noted by KBIA News Director Ryan Famuliner Thursday night.
Can't say for certain when it was removed. It was still top left when I checked last week. I've been checking this page regularly for weeks

— Ryan Famuliner (@RyanFamuliner) July 7, 2017
MORE: How 'the Melissa Click effect' took Mizzou down the drain
ABC 17 said Basler didn't respond to a comment about her disappearance Thursday night.
According to the Missourian, the dean of students position has been "newly expanded" and will now oversee six entities, including Residential Life, Greek Life and Student Life. The assistant vice chancellor position has also been axed.
Here's the new org chart for #Mizzou's division of student affairs. Greek life and res life are being wrapped in together now. pic.twitter.com/8Qen1eFR44

— Nathan Lawrence (@NathanBLawrence) July 6, 2017
Basler's Twitter profile has been down since at least Jan. 12, when it was archived.
Read the Missourian and ABC 17 coverage.
MORE: 'Extensive national search' leads Gonzaga to Melissa Click
Like The College Fix on Facebook / Follow us on Twitter
IMAGE: Kayla Beck/YouTube