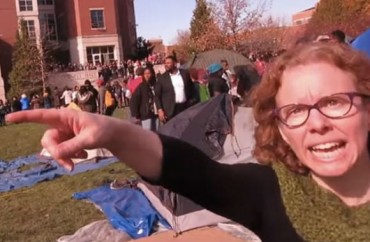 If you saw this Chronicle of Higher Education article, you might actually have felt some sympathy for the University of Missouri's Melissa Click, she who (in)famously had asked for some "muscle" to remove a student reporter from a campus protest in early November.
It's true that Click got some hate email as a result of the incident, as National Review Online's Jillian Kay Melchior writes, but the CHE piece makes these messages out to be typical of what Click received, all the while ignoring extreme communications from the other side.
Take this note from Rob Rasmussen, who had run (unsuccessfully) for Columbia, Missouri city council last year:
"Overall, I'm OK with actual violence, like actual political violence […] I'm OK — I'd be fine if we brought back the guillotine and cut off the Koch brothers' heads. That would be OK with me. I think that would be OK."
RELATED: Assault and Title IX claims filed against Mizzou administrator, professor for attacking journalists
Rasmussen claims Click was "100% in the right" in her actions at the protest, and said protesters in public areas should have the right to deny the media access because
with Occupy Wall Street, a lot of us lefties learned that if you give open access to the media, some people with an agenda will try to find people in your camp who will say ridiculous things and make it look like your whole group [supports those stances].
Ah, right. And that never happens to the other side by the mainstream media, eh?
Also included in Click's messages of support were one praising her for "stopping that nasty Asian dude" (student photographer Timothy Tai), and another which denounced Click's actions … unless the reporter was from an outlet akin to Fox News.
Although more than 100 Mizzou faculty members have signed a letter in support of Click, there's a Change.org petition requesting that she be fired, which has (currently) over 3,300 signatures.
RELATED: Missouri students would have to study freedom of speech under state bill
Like The College Fix on Facebook / Follow us on Twitter
IMAGE: Mark Schierbecker/YouTube