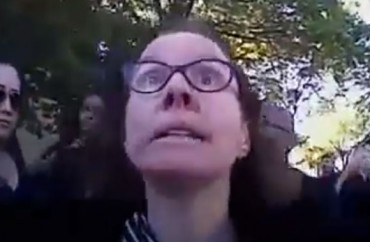 Melissa Click is trying to make herself a martyr for academic freedom.
After police bodycam video showed the embattled University of Missouri communication professor cursing at a police officer at a racial protest against then-System President Tim Wolfe in October, interim Mizzou Chancellor Hank Foley said the incident was "just another example of a pattern of misconduct by Dr. Click."
Since her employment is already under review, Click took that as an indication she can't get a fair hearing and issued a statement, KRCG 13 News reports.
Click backhand-apologizes for her behavior "while trying to keep the peace" at the Concerned Student 1950 protest in October, claiming students "were being threatened with pepper spray and taunted by parade spectators" and saying the bodycam video "depicts my desire to support marginalized MU students":
Interim Chancellor Foley's decision to express his personal feelings about the video in a press release to the public and an email to the entire campus community, represents a disconcerting reversal of his earlier statement that "the MU administration does not comment publicly on personnel matters." His comments create a biased environment that will make it difficult to receive fair treatment through the due process that MU policy affords all faculty. His words and actions set a troubling precedent that endangers academic freedom for all.
Melissa Click responds to newly issued videos: https://t.co/RybrMf303f pic.twitter.com/EUWMtG5d4k

— KRCG 13 (@KRCG13) February 15, 2016
The American Association of University Professors has also criticized the paid suspension of Click in a letter to Foley, because the administration has expressly denied that she poses "immediate harm" either to herself or others.
RELATED: Mizzou's Melissa Click told police 'get your f**king hand off me' at previous racial protest
Like The College Fix on Facebook / Follow us on Twitter
IMAGE: Mark Schierbecker/YouTube