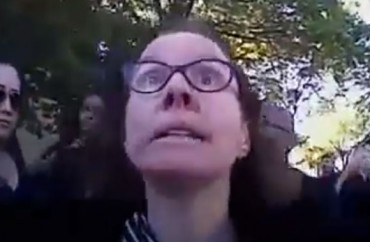 The professor who manhandled a student journalist and called for "muscle" to remove him from a public space is calling herself a "scapegoat" in the University of Missouri's quest to "silence Black students and their allies."
Melissa Click, who was fired by the Board of Curators late last month and initially justified her action as trying to stop a man with a gun, released a statement praising the American Association of University Professors (AAUP) for opening an investigation into her dismissal.
Columbia Daily Tribune reports that Click is publicly accusing the curators of running an unfair process and being influenced by the most unfair people of all, conservatives. She wrote in a statement:
In their decision to terminate my employment, the Curators bowed to conservative voices that seek to tarnish my stellar 12-year record at MU. Instead of disciplining me for conduct that does not "meet expectations for a University faculty member," the Curators are punishing me for standing with students who have drawn attention to the issue of overt racism at the University of Missouri. While I have apologized on numerous occasions to numerous parties for my actions on October 10, 2015 [mixing it up with police at a protest] and November 9, 2015 [manhandling the student], I will not apologize for my support of Black students who experience racism at the University of Missouri.
RELATED: Mizzou's Melissa Click says she feared student journalist had a gun
Click is essentially asking the public to forget that she threatened a student for exercising his First Amendment rights and see through to her deeper motive:
Instead of seeking to silence Black students and their allies, MU must acknowledge the concerns of marginalized students on our campus, address the racial problems that shape the campus community, and ensure fair treatment of all students, staff, and faculty.
AAUP notes that Click did not have tenure when she was fired, but considers her the equivalent – "a probationary faculty member within the term of appointment."
The group will send three members from other institutions to visit Mizzou in Columbia in two weeks "to meet with administrators, board members, faculty leaders, and Professor Click," it said:
After ascertaining the facts and the positions of the principal parties, the investigating committee will determine whether the board in dismissing Click violated the 1940 Statement of Principles on Academic Freedom and Tenure and derivative AAUP-supported academic procedural standards, whether its actions disregarded the institution's own stated policies, and whether conditions for academic freedom and tenure at the institution are sound.
If its standing committee on tenure and academic freedom votes to censure Mizzou at its June 3-4 meeting, AAUP will put the vote to all members at its June 18 meeting.
Read the story and AAUP's statement.
RELATED: Mizzou's Melissa Click told police 'get your f**king hand off me' at previous racial protest
Like The College Fix on Facebook / Follow us on Twitter
IMAGE: YouTube screenshot