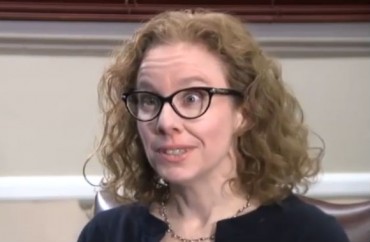 Why did Melissa Click – fired today by the University of Missouri Board of Curators – call for "muscle" to remove a student that she referred to as a "reporter" from a protest on public land?
She thought he had a gun, according to newly published documents written by Mizzou investigators, obtained by The Chronicle of Higher Education. One reads:
At first sight, [student journalist Mark] Schierbecker was inside the perimeter and approaching Click, which she perceived as threatening. He introduced himself as "media" and asked to speak with her, but she found his introduction suspicious and did not believe he was media. She noted that Schierbecker had a small camera that appeared unprofessional to her. She advised us that she was concerned that he might be armed with a gun, particularly as the Missouri Legislature had recently passed a law allowing concealed firearms on campus.
Actually no – the Chronicle notes that a bill allowing campus carry was introduced a month after Click's tangle with Schierbecker.
Click later told investigators she "never believed" Schierbecker had a gun, just that "he could have," which explains her response. She also claimed that she said the Legislature was debating a campus carry law, not that it had been passed.
RELATED: Melissa Click fired by University of Missouri for harming 'rights of others'
Like The College Fix on Facebook / Follow us on Twitter
IMAGE: ABC 17 screenshot