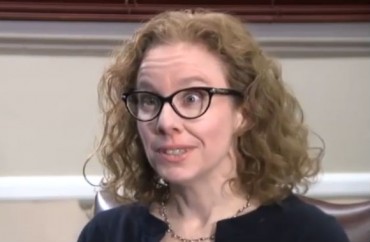 UPDATED
Chancellor: 'Just another example of a pattern of misconduct by Dr. Click'
The University of Missouri professor who called for "some muscle" to remove a student journalist from a racial protest in November has a history of aggressive behavior at public protests.
Newly released video from the October homecoming protest by Concerned Student 1950, the black activist group at Mizzou, shows Communication Prof. Melissa Click telling police to "get your fucking hand off me" as she stands between them and protesters blocking traffic.
That video is already having repercussions against Click, who was suspended after her clash with the media. Interim Chancellor Hank Foley told the university community in an email Sunday night that Click's behavior toward police will figure into her evaluation by the Board of Curators.
Foley was even harsher in an official statement from the Mizzou News Bureau, calling Click's conduct "appalling" and himself "angry that a member of our faculty acted this way."
Protesters including Click sought to block the parade route of then-Missouri System President Timothy Wolfe, alleging that the red 1970 Chevrolet Chevelle carrying Wolfe had struck graduate student Jonathan Butler, whose hunger strike the next month helped topple the president.
'We must have high expectations of members of our community'
Bodycam footage obtained by The Columbia Missourian shows the protest from the perspective of two Columbia Police Department officers responding to the homecoming protest.
The video picks up near the end of previous footage from The Missourian and the protesters themselves.
As the police arrive, about half the group disperses down the street while the others cluster by the edge of the sidewalk. When officers urge protesters to leave the street, Butler throws his hands up in front of an officer to guard the remaining protesters and begins arguing with him.
"We're done," Butler tells another officer.  The first officer then puts an arm between himself and Butler and begins walking Butler backward, toward the sidewalk.
The officer walks back into the street, leaving Click to thrust her small five-foot frame between Butler and the second officer. With arms raised, she berates the officers for physically handling the protesters.
The first officer returns and reaches his hand toward Click's shoulder. "Get your fucking hand off me!" Click exclaims before recoiling and apparently careening her body into the officer.
Click's behavior toward Columbia police "as well as the video from the events on Nov. 9 are not consistent with that which is expected of a faculty member," interim Chancellor Foley wrote the community Sunday night.
"We must have high expectations of members of our community, and I will address these new revelations with the Board of Curators as they work to complete their review of the matter," Foley said.
In a statement on Mizzou's website, Foley went even further, calling Click's interaction with police "a verbal assault."
"Her actions caught on camera last October, [sic] are just another example of a pattern of misconduct by Dr. Click—most notably, her assault on one of our students while seeking  'muscle' during a highly volatile situation on Carnahan Quadrangle in November," Foley wrote.
'I've never been involved in anything like this before'
On Wednesday Click spoke publicly for the first time with ABC 17 News and local public radio station KBIA. She maintained in interviews that her behavior toward media at the Nov. 9 protest wasn't typical of her academic career.
"It was a… it's just something that came out in a flustered moment and I regret it," Click told ABC 17. "It's one small moment, however, of the time that I spent as a guest at the camp" set up by Concerned Student 1950 on public land.
"And it's also a very small moment in my 12 years at the University of Missouri," Click continued. "I've never been involved in anything like this before. And I made a mistake. It's a mistake I apologized for and I'm happy to continue to apologize for it. I am sorry for how I spoke that day."
Click told KBIA she joined the protesters at the homecoming parade because she was "really moved by their message" and saw they were "emotionally distraught" by the "antagonistic response" of the homecoming crowd.
Protesters "were recounting moments—racial moments in MU's past … and I felt that they needed support," Click said.
UPDATE: Interim Chancellor Hank Foley's expanded and more strongly-worded statement on Click has been added to the article.
Like The College Fix on Facebook / Follow us on Twitter
IMAGES: ABC 17 News screenshot, Mark Schierbecker/YouTube