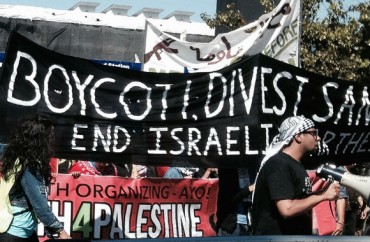 The Modern Language Association (MLA) Delegate Assembly today voted down a resolution which endorsed an academic boycott of Israel.
The tally was 113 against, 79 in favor.
In addition, the MLA approved a measure which "calls on the association to refrain from boycotts."
"The text of the anti-boycott resolution asserts that endorsing the boycott of Israeli academic institutions 'contradicts the MLA's purpose to promote teaching and research on language and literature' and could 'curtail debates with representatives of Israeli universities … thereby blocking possible dialogue and general scholarly exchange,'" Inside Higher Ed reports.
A dozen former MLA presidents sent out a letter earlier this week opposing the boycott, noting that support of such "will damage the reputation of the MLA and will do nothing to solve conflicts in the Middle East."
Supporters of the boycott, on the other hand, argue that it is a powerful way to show solidarity for Palestinians in the face of what the text of the pro-boycott resolution describes as "the systematic denial of academic freedom and educational rights for Palestinian scholars and students." …

Even if the MLA's Delegate Assembly had approved a pro-boycott resolution Saturday, the matter would not have been conclusively decided. Any resolutions approved by the Delegate Assembly (including the anti-boycott measure that was approved) will be forwarded on, first to the MLA's executive council, which under the association's rules is charged with conducting a review of the "constitutional, legal and fiduciary issues posed by the language of each resolution approved by the Delegate Assembly." The council will then determine whether to pass it along to the full membership of the association for a vote. …

In advance of the boycott votes, the two main groups that have mobilized to support or oppose the boycott within the MLA — the pro-boycott MLA Members for Justice in Palestine and the anti-boycott MLA Members for Scholars' Rights — have issued blog posts and other resources on their respective websites.

"We are relieved," said Cary Nelson, the Jubilee Professor of Liberal Arts and Sciences at the University of Illinois at Urbana-Champaign and the co-editor of The Case Against Academic Boycotts of Israel (Wayne State University Press).
The Delegate Assembly also narrowly voted in favor of "indefinitely postpon[ing] consideration of a resolution condemning alleged attacks on academic freedom by Palestinian political organizations." Critics of this resolution call it "racist" and "victim blaming."
MORE: Anti-Israel BDS resolution comes up for a vote at MLA this weekend
MORE: The MLA's anti-Israel agenda
MORE: Women's studies group votes for BDS
Like The College Fix on Facebook / Follow us on Twitter
IMAGE: Alex Chis/Flickr