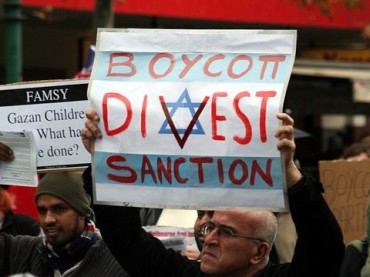 In the wake of a call for an academic boycott of Israel by the national council of the American Studies Association, Kenneth Marcus of the Algemeiner writes today of a troubling series of events related to the anti-Israel BDS movement that he has observed in the lead up to the Modern Language Association's (MLA) national convention:
The MLA is considering a resolution that would urge the U.S. State Department to oppose the allegedly "arbitrary denials of entry" to American academics seeking to teach or conduct research at West Bank and Gaza universities. This half-way measure is, as former American Association of University Professors Presidents Cary Nelson explains, a step along the way towards a formal BDS resolution:  "They proposed the travel resolution as a fallback," said Nelson. "They're trying something else as a step toward a boycott resolution the next time. If they can win this, they will move onto the next one." So BDS advocates stepped back from advancing a full-fledge BDS resolution that they clearly knew would fail, but they are using the MLA as a political tool to achieve the next best thing…
Read the full story here.
Like The College Fix on Facebook / Follow us on Twitter