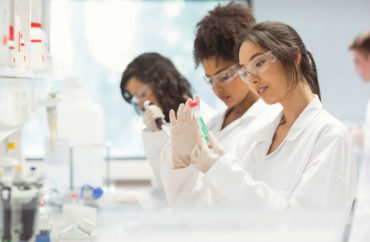 'We have a coronavirus test—let us use it'
Two prominent Michigan medical professors are helping lead the charge to seek a suspension of regulations that prevent campus research labs from conducting diagnostic checks to help with testing amid the coronavirus pandemic.
The chair and associate chair of translational neuroscience at Michigan State University's College of Human Medicine, Jack Lipton and Caryl Sortwell, respectively, argue that academic labs that have the capabilities to conduct such tests should be cleared by the FDA to do so.
Sortwell told The College Fix she is hopeful that regulations may be lifted to allow academic labs to conduct thousands more tests for COVID-19, and feels momentum is on their side.
"We've had calls with Michigan government representatives and they have been very receptive and we are hoping that things will move in a positive direction," she said. "Also, a network of academic scientists has formed and thousands of labs with capability and interest to run the COVID-19 test have volunteered to get into the fight, if allowed."
If academic labs were allowed to conduct testing, Sortwell said she estimates that Michigan academic labs alone could effectively and safely administer approximately three to four times more tests for COVID-19 per day than currently administered in the state.
As of April 28, Michigan has administered over 180,000 coronavirus tests statewide. Nationally, officials appear to have administered over 6 million tests.
Sortwell and Lipton brought the issue to national light when they co-wrote an April 15 op-ed in The Wall Street Journal that explained how under current rules and regulations, academic testing is illegal.
They pleaded, "we have a coronavirus test—let us use it."
Currently only certain certified labs are allowed to conduct testing.
"The Centers for Medicare & Medicaid Services manages the Clinical Laboratory Improvement Amendments certification system. The FDA approves high-complexity testing and regulates who can run a test and which tests can be run," wrote Lipton and Sortwell.
"Although regulations have been relaxed to allow academic research laboratories already working under the umbrella of CLIA-certified labs to be 'deputized' for coronavirus testing, in the 85 days since the first infected American citizen was identified, less than 1% of the population has been tested."
Sortwell told The Fix that COVID-19 testing is a simple yes or no test.
"In the case of COVID-19 when the test is looking for positive or negative results, people can have varying viral load but the point of the test is to detect any of the virus. With testing for COVID-19 slight variations between test sites would not be an issue. Also, because non-CLIA labs can use different reagents to run the test the supply sources are less of an issue," she said.
The strict Clinical Laboratory Improvement Amendments adherence to one kind of test kit also helped lead to the COVID-19 testing kit shortage, she added. The more widespread testing will help inform future decisions of when government leaders should lessen restrictions and allow citizens to return to work, she said.
"Widespread testing for COVID-19 will provide the data needed to determine when and how much social distancing is required to prevent outbreaks, not overwhelm our healthcare system, protect our vulnerable populations, and prevent deaths," she said.
She said more tests will indicate that there are more people infected with the virus than originally predicted.
"A new study out of NYC estimates that 1 in 5 New Yorkers was exposed to COVID-19. New reports out of Santa Clara, California, confirmed that people had COVID-19 from community spread much earlier than we had previously understood with the first death occurring in early February and infection in January," she said.
MORE — Pitt medical doctor: COVID-19's death rate 'much lower' than earlier estimates
Wave Break Media / Shutterstock
Like The College Fix on Facebook / Follow us on Twitter