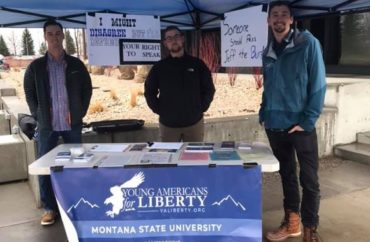 Administrators asked Young Americans for Liberty to help reform code of conduct
Montana State University's code of conduct will ensure better protection of students' rights following advocacy by the campus Young Americans for Liberty chapter.
Current chapter president Rachael Stevenson told The College Fix the changes are the result of advocacy efforts by her libertarian group and past leadership.
"Of many changes to the Code of Conduct, two are a direct result of YAL activists meeting with the Office of the Dean of Students," Stevenson told The Fix via email.
One section now allows students to "object to the person judging their case for 'just cause,'" the libertarian activist told The Fix.
The code of conduct "no longer considers it a violation to not proactively report conduct violations," Stevenson said. "Effectively, students are no longer able to be punished for not being snitches."
Stevenson said the needed changes are far from being complete, but the adjustments to the code of conduct are an important part of the reform process.
When asked what specifically the YAL chapter did to advocate for change on campus, Stevenson said the group "reviewed the proposed code of conduct with [its] officer team, and met repeatedly with the Office of the Dean of Students to discuss the changes [it] wanted to see."
Montana State University did not respond to two requests for comment sent in the two weeks.
The College Fix had asked what motivated the school to work with its YAL chapter to change the code of conduct and if it had collaborated with any other student groups on similar issues.
Victory should encourage students elsewhere
JP Kirby, national director of student rights for YAL, told The Fix the victories at MSU should encourage students elsewhere.
"Students who want to affect similar changes on their campus should remember that movements demand change," Kirby said.
"Working on your own with school administration or through Student Government can only get you so far," he said.
"When students are committed to reaching out to their classmates and bringing their voices into the movement–like [former leader] Dylan Dean did–the campus administration can no longer hide behind piles of red tape and ignore the change that's needed," Kirby said.
Students who want to advocate for change and launch a campus movement should contact YAL for help in creating a strategy, he said.
Kirby also said students should not be discouraged if they are ignored by administrators or faculty and suggested that a movement with strong support was the best counter action.
"Students who are having a hard time working with their administrators on this sort of change should remember that just last school year Dylan was being cussed at by professors and ignored by school administration–we have the emails to prove it from the FOIA request Dylan had to file," he said.
"The YAL chapter created a movement that was so loud and powerful through the course of last school year, that the MSU administration decided on their own to include the YAL chapter in the Code of Conduct process, rather than risk being the target of another Student Rights Campaign," he added.
"Students begin to have real liberty on campus when school bureaucrats are worried that interfering with students' rights will be more trouble than it's worth," Kirby said.
MORE: University of Oklahoma board adopts pro-free speech statement
IMAGE: Montana State University YAL/Facebook
Like The College Fix on Facebook / Follow us on Twitter