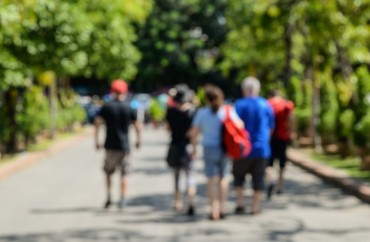 More than 30 "White Student Union" pages have recently sprung up over the last several days on Facebook, pages that affiliate themselves with various universities around the nation.
The creation of an "Illini White Student Union" Facebook page that surfaced Nov. 18 in response to a "Black Student Solidarity Rally" at the University of Illinois at Urbana-Champaign gained national attention, but apparently it's just the tip of the iceberg.
Over the last week, at least 33 other "White Student Union" pages have appeared on Facebook, according to research conducted Sunday by The College Fix.
Notably, "White Student Union" Facebook pages have been created for Stanford, Penn State, UCLA, UC Berkeley, the University of Missouri, and NYU, along with many others.
These "White Student Union" pages currently exist only as social media creations, and it is not clear whether they are created by students at their respective universities. It is also unclear if these groups plan to become actual student organizations on campus, although a North Carolina university page states they plan on holding "group meetings, info sessions, rallies, and protests on the UNC campus."
Commonalities between the pages exist. Many share a copy-and-paste like description in the "about" section. Word choices in these descriptions are largely identical across certain pages with the exception of the differing university names substituted in.
One common description states: "A safe space to support and promote the interests of students of European descent at [relevant university name]!"
A longer description found on several of the pages states: "We affirm the dignity and ancestry of our proud people who have gifted the world with countless works of beauty, science, and wisdom, and are committed to promoting a dialogue and political resistance that will secure a future for our posterity and spirit. … At the same time, we do not wish to denigrate or harm any other group or ethnicity."
The different "White Student Union" pages also interact with each other. They like each other's pages and posts. They share links with each other and comment on each other's pages as well.
In their timelines, some pages post news articles critical of the Black Lives Matter movement, or stories that aim to debunk white privilege. Posts on these pages also include articles on racial controversies at other campuses or their own. Additional posts are on topics such as Europe and the European refugee crisis, political correctness, links to other "White Student Union" pages, and any articles written about themselves or other "White Student Union" pages.
Some commentators posting to the sites have criticized them as going about their aims the "wrong way," or say creators are trying to fan the flames. Some accuse them of hate and racism. A handful cheer them on.
Many questions remain.
"For fuck's sake, does one of these pages have a single member who is actually a student of the university it's supposed to be associated with?" asked one poster on the UCSB page, to which the page's administrator responded: "The white student union of ucsb is in a building phase and is still in an understandably delicate place in time. We hope to engage as a group soon."
While it is unclear who created these pages, students and administrators alike are taking them seriously.
At UC Berkeley, a protest has already been organized in response to the "UC Berkeley White Student Union" page. The event is scheduled for Nov. 30.
"This is clearly an outrage and a direct attack against PoC groups. I am in contact with various student groups including the BSU and BAMN, and we will try to get enough people to get this despicable page off of Facebook," the protest's event page states.
"Note that this event is not meant to incite a race war. We are simply expressing our view that the White Student Union at UC Berkeley is improperly using the seal, and that the group contains many comments deemed harmful to PoC," it adds. "We do respect the rights of the people behind the UCB WSU group; however, the group as a whole is inappropriate and thus deserves the consequences."
At the University of Illinois, it acted swiftly to have the "Illini White Student Union" page removed. A report by The Daily Illini quoted campus spokeswoman Robin Kaler as saying: "It is disturbing and cowardly that someone would create an anonymous and senseless social media page specifically designed to intimidate others, including and especially our students."
The following is a list of pages from other schools across the United States and Canada: UCLA, Stanford, UC Davis, Princeton, University of Missouri, UC Berkeley, California State University at Fullerton, University of Tennessee at Knoxville, Penn State University, Florida International University, Ohio State University, University of North Carolina, University of Texas at Austin, UC Santa Barbara, University of Minnesota, Occidental College, LSU, Michigan State University, Washington State University, University of Central Florida, North Carolina State University, University of Cincinnati, University of Montana, Loyola University at Chicago, Rutgers, NYU, Portland State University, University of Illinois, University of British Columbia, University of Western Ontario.
While the UC Davis page was up earlier Sunday, it was defunct by 7 p.m.
Like The College Fix on Facebook / Follow us on Twitter