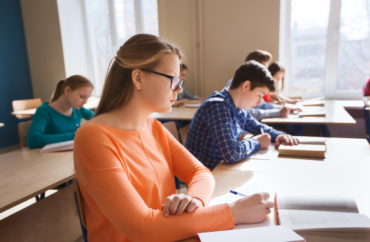 More than 600 professors from across the nation have signed on to a letter urging their counterparts in the K-12 education system to stop dumbing-down math education, arguing "advancing information technology and American economic competitiveness" is at stake.
As of Dec. 8, 662 professors from colleges and universities across America have signed on to the "Open Letter on K-12 Mathematics."
Many are professors of mathematics, but scholars who teach computer science, physics, engineering, economics, business information, analytics, biology, data science and similar STEM fields have also added their names to the open letter.
The letter has nearly 1,000 signatories thus far, and the other 300 or so are professionals in various technology, business and medical fields.
The nearly 800-word letter argues the trend to eliminate advanced math courses in high school for the sake of equity may assist in reducing the achievement gap — but the practical outcome is students are ill-prepared for the rigors of college-level math.
The professors argue efforts to reduce achievement gaps by limiting the availability of advanced math courses are superficial and hurt students longterm:
While it is possible to succeed in STEM at college without taking advanced courses in high school, it is more challenging. College students who need to spend their early years taking introductory math courses may require more time to graduate. They may need to give up other opportunities and are more likely to struggle academically. Such a reform would disadvantage K-12 public school students in the United States compared with their international and private-school peers. It may lead to a de facto privatization of advanced mathematics K-12 education and disproportionately harm students with fewer resources.
The letter also contends that the trend to de-emphasize high school calculus and algebra classes in favor of "data science" courses is short-sighted.
Data science, such as computer science, statistics and artificial intelligence, "is built on the foundations of algebra, calculus, and logical thinking," the professors remind K-12 peers.
The professors urge K-12 educators to stop dumbing-down math for the sake of feel-good equity outcomes.
"Far from being deliberately held back, all students should have the opportunity to be nurtured and challenged to fulfill their potential. This is not only for their own benefit but also for society and the nation's economic competitiveness," the letter states.
"There cannot be a 'one size fits all' approach to K-12 mathematical education. Students should be offered multiple pathways and timelines to explore mathematics. But one of these pathways should be the option to obtain the fundamental preparation for college-level STEM, including algebra, calculus, and logical reasoning."
Read the entire letter here.
MORE: Common Core doesn't prepare students for college, author finds
IMAGE: Syda Productions / Shutterstock
Like The College Fix on Facebook / Follow us on Twitter