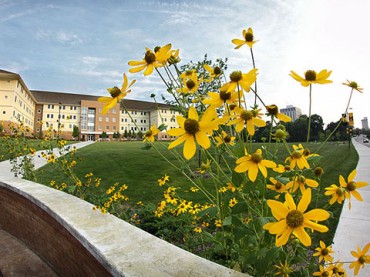 The University of Michigan-Flint offered its students a place to "share your reactions" to the grand jury's decision not to indict Ferguson, Mo., police officer Darren Wilson, who is white, in the shooting death of black teenager Michael Brown.
To the surprise of facilitators, most of the students who turned up at the campus Intercultural Center Nov. 25 were white.
The email went out to university students the evening of Nov. 24 as riots raged in Ferguson, Mo. In addition to counseling, art supplies were provided to help students express their feelings and write letters to the Brown family.
"To be honest, most of the students that I have seen are white students, which I thought was interesting. I didn't expect that," Qiana Smith, interim director of the center, told The College Fix during the event.
Smith said it was a "pleasant surprise" that "more majority students" would come to the center.
"I want that space to be a space where everyone feels comfortable, and so actually it is comforting to know that all students feel comfortable coming to the space to have a conversation based off of an email."
Students, faculty and staff came to discuss the Ferguson events throughout the day, with the crowd becoming slightly more diverse as the day went by. Smith said in a phone interview after the event that approximately 20 people attended.
While most attendees at the Intercultural Center preferred to keep to themselves as they processed the decision and subsequent civil unrest, a few chose to speak about their experience.
"It was interesting to see what ICC is actually doing in regard to the events in Ferguson," said student body president Nakshadil Sadien in an interview with The College Fix at the event. "I mean, it has to deal with culture, different people's perspectives, and what's happening in world events too."
Many of the students, according to Smith, said they felt the Brown case was a reflection of broader social issues, such as use of lethal force, the militarization of the police and race relations.
Like Ferguson, Flint has similarly suffered from poor racial relations along with an abysmal local economy. Smith said the historical failure of Flint residents and police to "build relationships" was a source of tension in the city.
Smith said there are "even some more unjust things that have happened" that are worse than Brown's death. She referred to two separate incidents in Ohio where police killed two African Americans, a 22-year-old and a 12-year-old, having mistakenly believed that the airsoft guns they were brandishing were real.
The conversation frequently turned to appropriate political responses to the decision.
"'What do we do next?'" was the topic of many discussions, said Smith. "I know I threw out 'why don't we just not shop during Black Friday?' What type of statement would that say? Instead of protesting and damaging stuff."
While most sought consolation, one student came in "who wanted to understand what was going on and what happened with the case and [why] people were so emotional," said Smith.
Having watched the news reports of the rioting in Ferguson, Smith and her colleagues saw the event as an opportunity to take a nonviolent approach to addressing the student population's concerns.
"We thought we might just want to have something available no matter what the decision is so people know they have a space to come talk," Smith said.
College Fix reporter Mariana Barillas is a student at the University of Michigan-Flint.
Like The College Fix on Facebook / Follow us on Twitter
IMAGE: Jessica Morrow/Wikimedia Commons