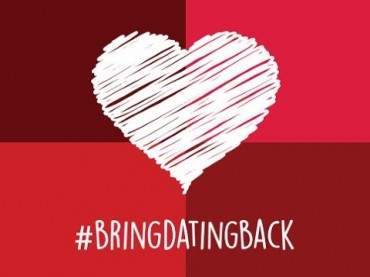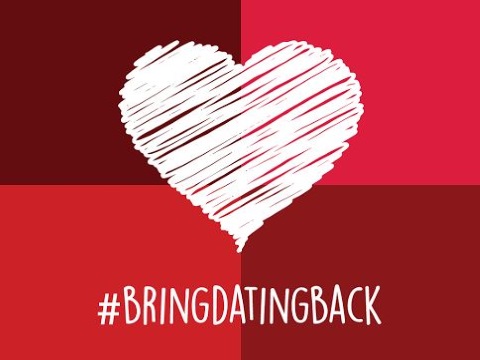 University of Pittsburgh student Reed Frey recently hosted a pro-abstinence table at a sex-themed poker game on campus.
The event, organized by university-funded student organizations, used condoms instead of poker chips, ostensibly to promote a message about safe sex.
Frey described asking a group of freshman girls: "Wouldn't it be great if a guy just took you out on a date instead?"
"The girls' faces lit up," Frey remembers.
Romance trumps the hookup culture, and this Valentine's Day season on more than 30 college campuses nationwide, students are taking to the quad with posters to remind their peers of that in a #BringDatingBack campaign. 
"'Date' doesn't have to be a four-letter word," one poster coaches. Stick figures on the placards urge students not to text, be vague, or mumble when asking for a date. "Leave your date wanting more," another poster suggests.
Frey is among those hanging up the pro-dating posters on campus, confident that the hookup culture benefits neither gender and harms both.
More than 3,000 posters have been distributed to campuses this Valentine's Day as part of the #BringDatingBack campaign, sponsored by the Love & Fidelity Network. The network is a nonprofit organization founded in 2007 to encourage "authentic dialogue" in support of sexual integrity and marriage on college campuses.
Christian Say, a 21-year-old sophomore and philosophy major at Princeton, is leading a group of fellow students in distributing 250 posters across his campus for Valentine's.
The bold red placard series, beginning with "How to Ask Someone Out," offer up once old-fashioned dating norms for contemporary students. "Don't text. Ask questions. Pay a genuine compliment. Don't expect to spend the night."
Say and fellow students are concerned about the lack of a dating culture on campus.
"I would like to see a social script for casual dating: people don't know what to do," he told The College Fix. "There is a very clear script for hooking up. People know exactly where to go and what to say. There are all these scripts people follow. There needs to be a social script for people who want to pursue relationships for the purpose of romance."
Say serves as president of the Anscombe Society, a student club dedicated to promoting marriage and the family. He describes a culture of cynicism about relationships, and a decline in friendship matched by a corresponding decline in dating.
"People hang out, but they don't really intentionally pursue friendships," he told The Fix. "Students are just falling into all kinds of relationships. There is something missing there. If we keep falling into these things, we aren't really pursuing our own happiness."
Love & Fidelity director Caitlin La Ruffa, herself a Princeton graduate and a 27-year-old newlywed, describes the poster campaign as a series of "how-to" messages to encourage healthy dating.
"Lately students have been telling us that they and their peers are eager to date but it has become so uncommon on campus that no one knows how," La Ruffa explains. "There are viable – and fun! – romantic alternatives to the world of hook-ups."
While traditional wisdom asserts that the hookup culture is advanced primarily by promiscuous men, Say hesitates to make generalizations. A lot of men at his college want to be in relationships, but can't find girls who feel the same way, he said.
Even so, Say offers no excuses for the men who resort to hooking up.
"The kind of person who's doing the kind of things that you are doing is not the kind of person you want to be," he explained. "The theme of the hookup culture is that actions don't have
consequences. But that's not true. The things that we do with our bodies become part of who we are. This matters to me because living a good human life matters to me. "
Thomas Pell, a history and American studies major, attends Providence College, a private Catholic school in Rhode Island. But even among an ostensibly conservative student body, he describes a large party culture, and alongside it, a hookup culture.
"It is good to talk about why the hookup culture is hurtful, and give people a chance to share the hurts," Pell told The Fix as he hung "how to treat your date right" posters around campus.
He also leads an on-campus club promoting sexual integrity among the student body.
"A lot of people don't participate in the hookup culture, but everyone kind of assumes that it's the norm and everyone is doing that," he said. "There's a lot of silent hurt that exists because of it [the hookup culture]."
At the University of Pittsburgh, Reed Frey will be spending his Valentine's Day going door-to-door in the freshman and sophomore dorms. Frey and his friends plan to distribute large candy bars with pro-dating slogans, inviting students to attend meetings about meaningful relationships, authentic love, and sexual integrity.
"I think kids know that there is something better and more fruitful out there," he told The Fix. "Students allow themselves to feel trapped into this [hookup] culture. If there's someone who is bold enough to be an alternative voice, people appreciate that. There's a duty for people who know what's true, not to sit by silently."
College Fix contributor Sarah Greek produces a national radio show and is on hiatus from Thomas Edison State College. 
Like The College Fix on Facebook / Follow us on Twitter