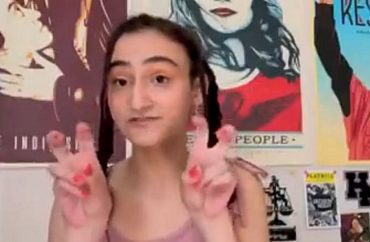 This July 4 holiday weekend was slow for news, but apparently it was so slow that even MSNBC felt the need to bring on a New York University student activist to opine on recent U.S. Supreme Court rulings.
On Saturday's Zerlina Maxwell show, NYU junior and climate action group Zero Hour founder Jamie Margolin reacted to the high court's West Virginia v. EPA and Dobbs v. Jackson Women's Health Organization decisions by claiming the court "is a deadly threat to our Earth and all life on it."
"I agree with what Congresswoman AOC [Alexandria Ocasio Cortez] and others have said — this is a judicial coup at this point," Margolin said. "The judicial branch is absolutely overreaching in their power and completely overturning what the majority of people want, what is good for the people, what is the will of the people … with the decisions against Roe v. Wade, with all these decisions which go against basic common sense safety and majority decisions."
Margolin continued: "[The court] is overturning, overturning, taking away basic rights and progress to the point where it's like this is …  this is a clear descent into fascism if we don't take serious action."
MORE: Native American literature course will explore capitalism's role in climate change
The author of "Youth to Power" went on to explain she is not being hyperbolic about fascism because she "has studied" the Third Reich.
"I study fascism a lot … my grandpa was a World War II veteran (on my dad's side, we're Jewish) and I grew up just learning a lot about Nazi Germany and other fascist regimes and things like that."
Margolin mocked those who say fascism can never come to America, claiming the country already is "seeing a fundamentalist essentially coup taking away basic rights … bodily autonomy, health care." She claimed the "pro-life" Supreme Court is literally "killing people" due to its aforementioned decisions as well as that on gun control.
"I mean, who rules against something called 'The Clean Air Act'?" Margolin asked. "Millions of people die of air pollution […] these 'pro-life' people have blood on their hands."
According to the International Congress of Youth Voices, Margolin is a "Latina Jewish lesbian […] writer, community organizer, activist, and public speaker" from Seattle. She once wrote that she imagines a world in which the "patriarchy, racism, colonialism, and excessive, abusive capitalism that caused the climate crisis will have been addressed," and that "Indigenous communities, immigrant communities, black communities, communities of color, the LGBT community, and communities in the global south will have all been given the justice and reparations they deserve, and everything they need to heal from centuries of intergenerational trauma."
MORE: Academics throw tantrums over Supreme Court's Roe v. Wade reversal
IMAGE/VIDEO: Tom Elliot/Twitter
Like The College Fix on Facebook / Follow us on Twitter