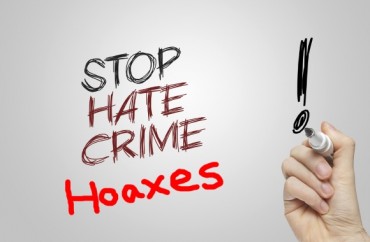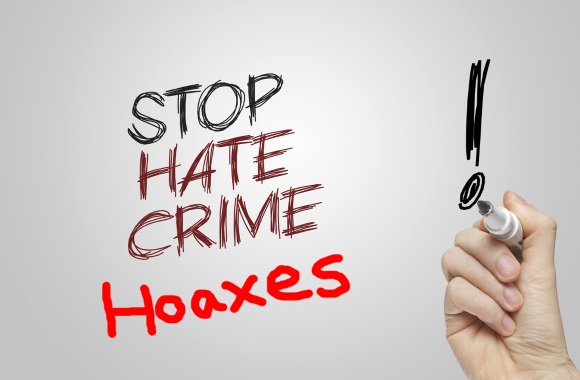 Hate-crime hoaxes had a banner year
During the 2016-17 school year, campuses across the nation were plagued by numerous hate crime reports — but so many turned out to be fake.
Often, students confessed to fabricating the incident or submitting a baseless report after police found no evidence. Sometimes they refused to even cooperate with police, making an investigation impossible. Other times officers caught the "victims" red-handed in their own web of lies.
Many examples were inspired by students trying to create and push the narrative of a spike in hate crimes after Donald Trump was elected president.
Here are some of the most outrageous examples from campuses and college students over the past school year.
Dude, where's my car?
A Muslim San Diego State University student wearing a hijab claimed that on Nov. 9, a day after the election, two men approached her in a parking garage, pushed and verbally berated her, and stole her car.
Campus police investigated the matter, including reviewing surveillance video, then later announced her claim that her car was stolen was unfounded, NBC San Diego reported: it turned out she had simply forgotten where she parked it. The police also suspended the investigation after the "victim" stopped cooperating with officers.
Although it was never officially called a hoax by law enforcement, the fact that surveillance videos could not support her story, and there is no other corroborating evidence, and she refused to cooperate with investigators, and her claim that her car was stolen was mistaken at best and a lie at worst — it's not a stretch to call this one a hoax.
And the Oscar goes to …
A North Park University student claimed to be the victim of threatening emails and notes taped to her door, until campus officials determined the threats were "fabricated."
The student posted pictures of the messages from Nov. 14 to her Facebook profile and told NBC Chicago: "This is a countrywide epidemic all of a sudden."
Shorty thereafter, the president of the university reported that "we discovered that the incident and related messages were fabricated; the individual responsible for the incident is not continuing as a student at North Park."
"We are confident," the president continued, "there is no further threat of repeated intolerance to any member of our campus community stemming from this recent incident."
So this is awkward
At the University of Michigan, a female student claimed that because she wore a solidarity pin after the November presidential election, a man approached her and scratched her in the face.
When she reported the incident in mid-November 2016, she stated it was "part of the surge in hate crimes following the election of Donald Trump a week earlier."
In March, she pleaded guilty to one count of a "false report," a misdemeanor. She had scratched herself.
When you're your own racist
At Elon University, the phrase "Bye Bye Latinos Hasta La Vista" was found written on a whiteboard, prompting school officials to plan an investigation and review classroom surveillance footage.
University president Leo Lambert originally stated the message, found Nov. 10, was a potential code of conduct violation. "I want to say emphatically that this incident is reprehensible and directly in conflict with Elon's values of inclusion and treating each other with dignity and respect," he announced.
Later, the culprit was revealed to be a Latino student, who confessed to writing the phrase, calling it a "joke."
When you've already done the sensitivity training and then find out it's a hoax
So a student at Capital University had written a series of threatening notes to himself. How was he found out? His handwriting was so similar to the notes threatening him that police eventually solved the crime.
The most recent incident occurred in January, when he reported to campus police he found a note "containing racist and homophobic language taped to the back door of his university-owned residence," the Chimes student newspaper reported.
"It was a way to try to get attention, to say 'Someone notice me, I'm dying on the inside,'" the student acknowledged.
But prior to the truth coming out, the campus had hosted a series of events, including an open conversation and an inclusivity march, to raise awareness of the possibility of hate crimes on campus, the Chimes reported.
When you find out it's a hoax and STILL have to do the sensitivity training
Officials at a Minnesota high school determined that a "non-Caucasian student" was responsible for a racist graffiti incident in February.
Administrators from the Lakeville South High School district stated the student "has significant special education needs," and that, while this does not excuse the student's actions, "it will help the community put this incident into perspective."
But the district still went ahead with their "plan to facilitate conversations regarding diversity with our students and staff," calling the whole thing a "teachable moment."
When you're your own racist, Part II
After a sign reading "No Black People Allowed" was posted on the gate of a campus residence in April, USC's Department of Public Safety stated the culprit was an African American male who was not affiliated with the school.
Department of Public Safety reviewed surveillance footage and identified the man responsible, who had also written #MAGA on the sign, The Tab reports.
A department spokesman said the individual will not be facing charges. There was "no crime committed," an officer stated in an email to The College Fix.
When your fake hate crime literally shuts down your college
About 1,000 protesting students took over St. Olaf College in late April — and even got administrators to cancel classes — so they could complain about how racist their school is.
The cause of it all? A note that used the n-word and threatened a black female student.
But soon after the campus takeover it was determined the note was not a genuine threat. Many speculate the black student who found it had created it.
No motive though
A black female student originally claimed she was thrown to the ground by multiple white men who then ran away yelling "Trump, Trump, Trump."
But local police said they are unsure the incident, which took place a day after the November presidential election, was intentional. Then the unidentified student from Villanova University decided to drop the investigation into her alleged assault for "personal reasons."
Basically police said they "believe that the men were running through the tunnel yelling 'Trump' and that the woman got knocked down, but police don't know whether it was intentional or what the motive was." Hhhhhhmmmmmm.
Yeah, I made it up
A 21-year-old Pakistani-American student reported in May that three men wearing masks threw him in a car, assaulted him, and stole his wallet — all while yelling, "Get out of our country, you f-king sand n-er!"
So NYPD's Hate Crime Task Force investigated the "crime scene," scanning surveillance footage and sending detectives to interview potential witnesses, and found no evidence.
Guess what? The student recanted his entire story.
MORE: Campus hate crime hoaxes: A best-of list (2015 edition)
MORE: Campus hate crime hoaxes: A best-of list (2014 edition)
Like The College Fix on Facebook / Follow us on Twitter
Like The College Fix on Facebook / Follow us on Twitter