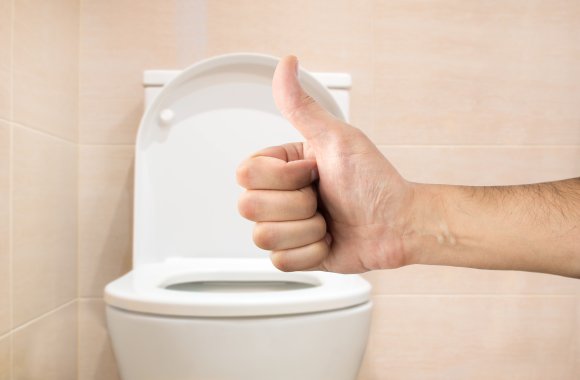 Glasgow, Scotland's University of Strathclyde has had to spell out for its student body the proper place to take a dump.
The Telegraph reports the school's Technology and Innovation Centre sent out an email back on June 8 which said "although 'different countries have different practices,' [students] should be aware that 'here in the UK the accepted practise is the use only the WC.'"
A "WC" is a water closet, also known as a toilet.
"Given the incidence of people pooing in bins, showers and the likes – can I please remind all TIC [Technology and Innovation Centre] occupants that the toilets have been provided for that specific purpose," the email continued.
"All bodily fluids, solids and toilet paper must be disposed of down the toilet. While I appreciate that the TIC population is multi-cultural and different countries have different practices, here in the UK the accepted practice is to use only the WC."
However — and you knew this would happen — Strathclyde officials eventually apologized for the email, promising to make sure "all future communications are appropriate and are consistent with our ethos."
Strathclyde University's Technology and Innovation Centre opened in 2015. Located in central Glasgow, the official website for the facility describes it as a home for "researchers, engineers and project managers from academia and industry, who will work side-by-side on projects spanning future cities, manufacturing, health and energy."

A spokeswoman for the University said: "We have apologised for any offence caused to colleagues. The email contained sentiments that are completely contrary to our institutional values and should not have been sent. It was recalled as soon as it came to our attention and we swiftly issued an apology to staff."
The Daily Mail notes that the building custodians were simply tired of discovering used toilet paper and feces "in places it just shouldn't be."
An insider said "The building houses some of the most intelligent brains int he world — yet they don't appear to know how to use the toilet."
Read the full Telegraph and Daily Mail articles.
MORE: TCU students demand higher quality toilet paper
MORE: Administrators get better toilet paper than students at Canadian university
MORE: Students just won't give up on 'shit-ins' for gender-neutral bathroom equality
Like The College Fix on Facebook / Follow us on Twitter
IMAGE: Shutterstock