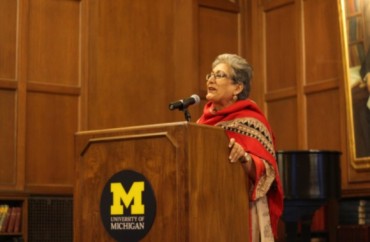 Controversial documentary portraying female genital mutilation, violence against women screened at University of Michigan
Standing before a room full of University of Michigan students on Thursday evening, Canadian Muslim activist Raheel Raza offered them a warning: the Islamophobia industry exploits the weakness of white liberal guilt.
Muslims have become "that silent majority who are sitting on the fence," Raza explained. "If there is garbage in my house and garbage in my neighbor's house, I believe it is my ethical responsibility to clear my garbage before criticizing my neighbor."
Raza would know best – that sums up her life as an activist.
Her world-renowned documentary "Honor Diaries," which profiles women seeking to expose the subjugation Muslim women face through forced marriages, female genital mutilations and other abuses within the Islamic world – has been a lightning rod for controversy.
Last year, scheduled screenings of the film were canceled at some universities, including at the University of Michigan-Dearborn and University of Illinois. Frequent campaigns against the film use the hashtag #DishonorDiaries to that end. The Council on American-Islamic Relations and some Muslim Student Associations decry the film as "anti-Islam propaganda."
But a half-­hour version of Honor Diaries was screened at the University of Michigan before an audience of about 40 students Thursday at the invitation of the conservative campus group Young Americans for Freedom, which stood alone to fight for Muslim women's equality.
"Zero feminist groups and Muslim groups accepted our invitation to cosponsor this event dealing with honor killings and systematic abuses
against women (we sent invitations to 20 groups)," Young Americans for Freedom President Grant Strobl said in an email to The College Fix.
The film, now available on Netflix, can be difficult to watch, sometimes graphically portraying female genital mutilation and violence against women in the name of honor.
"Hopefully it will shake us and move us," Raza said after the screening.
The film explains that honor has been construed in Muslim-majority societies as being vested in the body of the woman, and it is up to men to defend that honor. Sometimes that happens at the expense of a man's own daughter, sister or mother – who are killed in the name of "honor."
Even in the United States, some 506,795 girls are at risk of genital mutilation, and there are honor killings and forced marriages, Raza said. These threats are much greater in Muslim-American communities.
"You can either be truthful or you can be popular," Raza said. "I stopped being popular a long time ago."
Growing up in Pakistan and later living in Dubai for eight years, Raza said she understands the importance of freedom. She said she treasures freedom of expression, which does not exist in theocracies. It is therefore alarming for Raza that such freedom is being restricted on U.S. campuses.
"What are we teaching our children if not freedom of expression?" she asks.
When Raza was approached two years ago by the producers of the film, she insisted that there be no script, and she was heeded. Raza had already made a name for herself as an activist pushing for liberal understanding of the Islamic scripture. She is the president of The Council for Muslims Facing Tomorrow. Her book "Their Jihad, Not My Jihad" was published following 9/11. For her service to Canada, she has been awarded the Queen Elizabeth II Diamond Jubilee medal.
In Toronto, Raza is a herald of reform. A naturalized Canadian, she has dedicated herself to educating youth about the dangers of radicalization and terrorism. She is known as the first woman in Canada to organize Muslim prayers where women lead men. And she works with the Muslim gay community to make them feel welcome in Islam. Every week, Raza gets a call or email from a Muslim woman in distress, and it reminds her how vital such work is.
But Raza often stands alone in her progressive activism.
"The feminist movement has not been friendly to Honor Diaries," Raza said. "Western feminism has gone off the rails."
So much so that she has stopped calling herself a feminist.
Raza is critical of racism and sexism in Islam and the Arabization of Islam. But she maintains that her faith in God has always been her anchor, and that as a practicing Muslim, it is her responsibility to speak out.
"I am answerable to no one," she says, "but my creator."
IMAGE CREDIT: Alison Hacker
Like The College Fix on Facebook / Follow us on Twitter