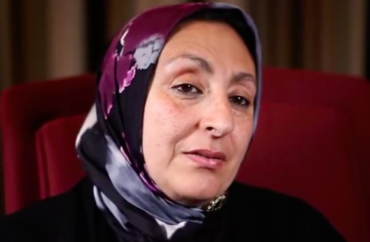 Palestine group compares Jewish students to Nazis, calls them 'oppressors'
A Muslim chaplain at a New York university is under fire for defending a campus Jewish group, with the campus's pro-Palestinian organization accusing her of a "heinous level of betrayal" for her show of support for the Jewish students.
The Stonybrook University chapter of Students for Justice in Palestine, an anti-Israel group, posted a statement to its Facebook group accusing Chaplain Sanaa Nadim of "working with and aiding Zionists," with the group seeming to issue a threat to get Nadim fired in favor of "a chaplain that properly represents the Palestinian liberation movement."
Nadim, who represents the Muslim Students Association at Stony Brook University, told The Stony Brook Statesman that the pro-Palestinian group's efforts represent an "agenda of hate or alienation" through "dictating to our fellow colleagues on campus what to believe in and how they should go about observing their religious convictions."
Nadim is known as a relatively moderate and ecumenical voice on the campus. The Statesman reported several years ago on her sterling reputation at the school, as well as her criticism of Islamic extremism: She once referred to ISIS as a "cancer," and declared: "Bloodshed in Islam is forbidden."
Students for Justice in Palestine was publicly criticizing Nadim over her organization's signature on a letter from the Interfaith Center at Stonybrook that defended Hillel, a pro-Israel student group with chapters on campuses across the country, including Stonybrook.
That letter, signed by nine different faith groups on the school's campus, criticized Students for Justice in Palestine for "openly advocat[ing] for the removal of the Hillel organization from our campus and its replacement with one that meets their definition of 'a proper Jewish organization.'"
That statement, the letter read, "is not only offensive but in direct opposition to the basic principles of respect and diversity that are the cornerstone of our University community."
"This is not about the political cause of Students for Justice in Palestine," it continued, "but about their attempt to undermine the identity of Jewish students and dictate to them how to observe their faith and express their cultural and national identity as they see fit. "
The letter was signed by both the Islamic Society and the Muslim Student Association, the latter of which Nadim is chaplain. In its response, Students for Justice in Palestine accused Nadim of helping Hillel "normalize their Zionist agenda."
"You have continually harassed our members and slandered our organization with claims of terrorism. We will work tirelessly to ensure that Stony Brook University's MSA has a chaplain that properly represents the Palestinian liberation movement," the group said.
Neither Nadim nor Students for Justice in Palestine responded to requests for comment from The College Fix. 
Reached via email, Rabbi Joseph Topek, the director of Hillel at Stonybrook University, defended Nadim, saying that the criticism of her "is extremely misguided."
"First, the context is that the entire Interfaith Center and its affiliated student organizations criticized SJP's call to expel Hillel and redefine Jewish identity as an attack on the religious and cultural rights of Jewish students," Topek told The Fix.
He also praised Nadim's character, saying that he has "known Chaplain Nadim for over 20 years and no one is more devoted to her students, her community, and her faith. She represents the best values of the chaplaincy in her authentic representation of Islam to the campus community and her advocacy for interfaith cooperation and respect."
In its Facebook post, Students for Justice in Palestine wrote that Israel "is no different from apartheid South Africa, and the world came together to condemn apartheid and denominations of racism, ethnic cleansing, colonialism, and imperialism."
"We ask the university," SJP continued, "if there were Nazis, white nationalists, and KKK members on campus, would their identity have to be accepted and respected? Absolutely not. Then why would we respect the views of Zionists? Regarding our statement about wanting a proper Jewish organization, any proper organization regardless of religion, should not prescribe to any denomination of racism, colonialism, or imperialism, including Zionism."
Topek told The Fix that Hillel and the Interfaith Center "view this for what it is: anti-Semitism."
"It is one thing for an organization to criticize the State of Israel and its policies or even to not recognize its legitimacy," Topek continued, "but in this case SJP is advocating an 'ethnic cleansing' of the campus of Jews and anyone who supports the existence of a Jewish state. Their attempt to define for us what is a 'proper' Jewish organization is both arrogant and offensive and is anti-Semitic at its core as it dictates to Jewish students how someone else thinks they should observe their identity, culture, heritage, and faith."
"SJP has moved far beyond the Israeli-Palestinian conflict and made this about eradicating the campus of Jews and anyone who supports the rights of Jewish students to define their own community," Topek said.
"Hillel has been on this campus for over 50 years," he added, "and is not going anywhere."
MORE: Rutgers professor condemned for posting antisemitic memes on Facebook
MORE: Study: 'High levels of hostility' toward Jews on California, Canadian campuses
IMAGE: Chronicle of Higher Education / YouTube
Like The College Fix on Facebook / Follow us on Twitter