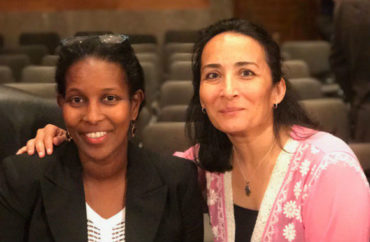 Academic threatened with 'women beating' sermons; female senator changes topic
Islamists threaten and mutilate women for being women. But Senate Democrats, including those who claim to defend women's rights, didn't want to hear about it.
Our reporter Andy Ngo of Portland State University got his first New York Times byline with a story on Wednesday's Senate Homeland Security Committee hearing on Islamist movements, peaceful and otherwise.
The Democrats on the panel ignored two women of color who criticized the violence against women that is justified by political and ideological Islamism.
Those women were the ex-Muslim human rights activist Ayaan Hirsi Ali, a victim of female genital mutilation whose honorary degree was yanked by Brandeis University because of her "Islamophobic" views, and Asra Nomani, a Muslim former Georgetown professor who was disinvited from speaking at Duke for her similar views. Nomani was also harassed by a white colleague because of her vote for Donald Trump.
Instead, the Democrats directed their questions to a white male government official they had invited to defend Islam as inherently peaceful.
Disgrace! Ignoring @AsraNomani and @Ayaan at the hearing on #Islamisation and #Sharia You both have many fans in Australia! #AyaanAsra https://t.co/rNh2Nps3Z3

— Old Simo (@old__simo) June 16, 2017
The hearing followed recent terrorist attacks in Great Britain, Iran and Afghanistan, and took place just hours after a gunman intentionally targeted and shot Republican lawmakers practicing for a charity baseball game. Ngo reports:
The contentious atmosphere carried on to the committee members themselves as Democratic committee leader, Senator Claire McCaskill of Missouri, expressed her disagreement with the premise of the hearing, called by Republican Senator Ron Johnson of Wisconsin.

"Anyone who twists or distorts religion to a place of evil is an exception to the rule," she said. "We should not focus on religion." McCaskill proceeded to lecture the panelists on "freedom of religion" in the United States. …

"The part [of Islam] that is a political doctrine consists of a worldview, a system of laws, and a moral code that is totally incompatible with our constitution, our laws, and our way of life," [Ali] testified.

Nomani, a former Wall Street Journal reporter [whose colleague Daniel Pearl was beheaded by Islamists after he left her house] and Women in the World contributor, echoed Hirsi Ali. "The ideology of Islamism contradicts the constitutional values of this country," she said. "The elements of Islamism are very clear." …

"There was one value that connected the 27 men involved in Danny's kidnapping and murder," Nomani testified. "They had all absorbed the da'wa, the evangelism, of an ideological interpretation of Islam."
Female Democratic senators ignore 2 women activists at hearing on Islamism, pose questions only to male witness: https://t.co/d9yStaFg8L pic.twitter.com/QVyPc7B3IQ

— Women in the World (@WomenintheWorld) June 15, 2017
Ali and Nomani were targeted by a Saudi-funded Georgetown research center that called them "anti-Muslim" before the hearing, but it was the Democratic senators – including several women – who limited their voices by ignoring them in the question-and-answer session, according to Ngo:
At one point, when Nomani shared examples of violent preachings on "women beating" she had received through Amazon, [Ranking Member Claire] McCaskill turned the conversation to book banning.

Democratic Senator Gary Peters later criticized the "anti-Islamic sentiment" in some of the written testimonies.

"I became concerned about a recurrent theme of anti-Islamic sentiment," Peters stated. "The perpetuation of anti-Islamic attitudes undermine our collective values and it contributes to the undercurrent of xenophobia."
Ngo said "the strategy of deflection by Democratic senators" limited Ali and Nomani to about 15 minutes of testimony combined in a hearing that was just under two hours.
.@SenRonJohnson points out @Ayaan and @AsraNomani were unjustly being accused of bigotry, yet were hardly asked any questions. #AyaanAsra pic.twitter.com/KuNsLMdGxv

— Lalo Dagach (@LaloDagach) June 14, 2017
Like The College Fix on Facebook / Follow us on Twitter
IMAGE: Asra Nomani/Twitter