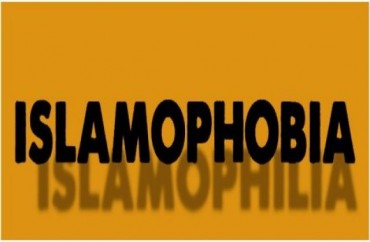 Muslim civil rights attorney Hassan Shibly spoke at the University of Buffalo Wednesday evening largely as a response to an appearance at the school two days prior by radical Islam critic Robert Spencer.
Shibly, a U. Buffalo alumnus and member of the Council on American-Islamic Relations (CAIR), was joined by Psychology Professor Katharina Azim in taking on Spencer, who runs the site Jihad Watch.
Shibly believes Spencer is a "hate profiteer" who "makes money off of hateful rhetoric based on double standards and information taken out of context," according to The Spectrum.
Folks like Spencer, he added, "promote the same lies about Muslims that were made about Jews in Germany 70 years ago."
Mr. Shibly contends Spencer and others "are a threat to democracy and liberty" because they want Islam outlawed (a claim Spencer refutes in the very comment section of the article):
"When I hear Spencer say that Islam should be illegal, I hear him saying my religion should be outlawed… and what I hear him saying is that he will chip away at the First Amendment to the United States Constitution," Shibly said.

Therefore, Shibly concluded, he is not just defending his faith; he is actually defending his country.
If this were accurate, Shibly would have a point. But his concern for First Amendment rights doesn't extend very far as he would not grant Spencer the right to be heard at the university if it were up to him:
"Even though I dramatically disagree with inviting Spencer, I think he has a right to speak. I just don't think he deserves a platform like the University at Buffalo," Shibly said.

He feels inviting Spencer to UB is no different than inviting a Nazi.

"Just as I wouldn't invite a Nazi or a member of the KKK, I certainly wouldn't invite Spencer," Shibly said.

He feels the line between free speech and hate speech is inciting violence.

"Hateful rhetoric is not cost free and has led to a dramatic increase in hate crimes," Shibly said.
Isn't this ridiculous refrain just about worn out now? That is, just refer to your opponent as a "Nazi," say he's "inciting violence" and violá — instant First Amendment override.
Shibly also was selective about terrorism facts, asserting that "[b]etween 1980 and 2005, 7 percent of terrorism was committed by people who claimed to be Jewish, [and] 6 percent was done by people who call themselves Muslim." Christians, he says, were responsible for terror incidents numbering in the "double digits."
Not only is the line mysteriously drawn at a dozen years ago, but from where does Shibly get these figures? What definitions is he using? What about total numbers of victims killed in these (alleged) terror events?
MORE: Jihad expert at Texas shooting warned students of ISIS in America – last week
MORE: After Ohio State students attacked by radical Muslim, campus hosts 'Islamophobia' talk
MORE: Harvard 'anti-Islamophobia' event rips the college as 'amplifier for Islamophobic rhetoric'
Like The College Fix on Facebook / Follow us on Twitter
IMAGE: Gerard van der Leun/Flickr