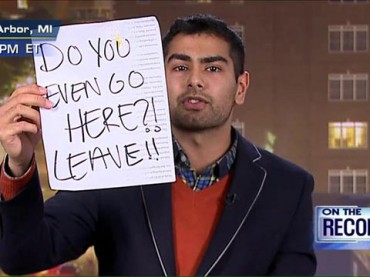 Reason's Robby Soave has your Friday evening breaking news: Celebrated and ballyhooed student satirist Omar Mahmood has broken his silence and fingered the University of Michigan student who vandalized his door.
College Fix readers will remember Mahmood wrote a hilarious send-up of microaggressions and promptly lost his job at the Michigan Daily for offending their delicate sensibilities. He talked about the experience on Fox News among other outlets.
And after the outcry over the screening of American Sniper at the university, Mahmood has decided to stop hiding the perpetrator who attacked him because she couldn't take a joke.
Soave reports that "the testimony of other students, video footage, and emails obtained by Reason" back up Mahmood's assertion that he was attacked by Zeinab Khalil,  "a recent UM graduate, Muslim, and progressive activist who won numerous distinctions during her time on campus, including an award named for Martin Luther King, Jr.":
Mahmood has known this all along—the amateur criminals were caught in the act on the apartment complex's surveillance video and are identifiable to those who know them—but he says he didn't report their names to the media in hopes that they would reconcile with him privately. They never did.
Khalil complained about the American Sniper screening on Twitter, saying the school "is already a hostile place for Arab/Muslim students" – which set off Mahmood.
Khalil is no ordinary flunkie activist:
During her time at UM, she was a model leader with a considerable resume. She was a student commencement speaker for the Honors Program graduation ceremony in May 2014, president of the Muslim Student Association, a columnist for the main campus newspaper, The Michigan Daily, and founder of several activist groups. The university chose her as a Rhodes Scholarship nominee last September—just a few months before Mahmood's door was vandalized. She even received the Dr. Martin Luther King Jr. Spirit Award for exemplifying "the leadership and extraordinary vision" of King, an apostle of non-violence. She interned at the Century Foundation and the Brookings Institution, both left-leaning think tanks in Washington, D.C.
The University of Michigan says it never investigated the vandalism because Mahmood didn't file a bias complaint – but he says that's not true:
Mahmood told Reason that he called the university hotline to report a bias incident, but was informed that because it had occurred off campus, nothing could be done.
Like The College Fix on Facebook / Follow us on Twitter
IMAGE: Fox News screenshot