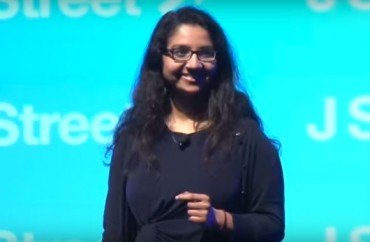 No peace with Hillel as long as it's fighting BDS
The campus arm of a self-described pro-Israel, pro-peace organization has elected a young Muslim woman from the University of Maryland as its next president.
The selection of Amna Farooqi as J Street U's leader comes as its parent organization increasingly squabbles with other Israel advocacy groups, who accuse J Street of mirroring the policy goals of the anti-Israel boycott, divestment and sanctions (BDS) movement.
And though the selection of a Muslim has raised some eyebrows, a former pro-Israel student activist told The College Fix his bigger beef with J Street is that it represents a "hard-left ideology" and thinks it has all the answers to intractable problems.
'I need to spend the rest of my life on this issue'
Farooqi grew up in a Muslim home in Potomac, Md., an affluent suburb of Washington, D.C., whose population is heavily Jewish. She told The Fix in a phone interview that she identifies as a practicing Muslim but is not especially devout.
Growing up around Jews and comfortable in Jewish culture, Farooqi recalled the tension between the discussions at her family's dinner table and the overall sentiment of the community.  
"There were awkward instances coming from the fact that at home my parents were much more critical of the Israeli government than a lot of people in our community," she said.
"I remember during Operation Cast Lead [the 2008-2009 Gaza conflict] my Facebook feed was covered with how many rockets were being launched by Hamas and the threat that it poses to Israel. There really wasn't any space to talk about Palestinian casualties or civilian casualties," Farooqi said.
She decided to run for J Street U president after taking Israel study courses and studying abroad at Hebrew University for a semester.
The experience "cemented for me that I need to spend the rest of my life on this issue," Farooqi said. "I'm deeply committed to a Jewish, democratic state of Israel and J Street U is the only group on campus that is actually working towards that solution."
Refreshing to hear @POTUS reaffirm being pro-Israel includes being honest/critical of problematic policies (see: occupation)

— Amna Farooqi (@afarooqi99) August 31, 2015
Farooqi's election was preceded by hostilities between J Street and Hillel, which calls itself the largest Jewish campus organization globally.
At its annual conference in March, J Street U members marched to Hillel headquarters in Washington in an act of protest after Hillel CEO Eric Fingerhut bowed out as a speaker at the conference. (Hillel blamed J Street's inclusion of a Palestinian negotiator who has compared Israel to the self-proclaimed Islamic State.)
The relationship between the two organizations has been fraught with tension since, and Farooqi does not plan on pursuing detente.
"As long as Hillel International wants to fight BDS and wants to have this very blind support for militias and avoids addressing the root of these issues—[Israeli] occupation—then yes, we'll remain at odds, because that's what the students want," she told The Fix.
Farooqi said that failing to address occupation poses the biggest threat to Israel's existence, and she's made her case in public for addressing occupation as J Street U's top priority.
At the group's Summer Leadership Institute in August, according to The Jewish Press, Farooqi declared, "We are not here to talk about the pro-Israel conversation on campus. We are here to talk about the occupation."
Amna Farooqi kills it: the best way to fight BDS is year – long antioccupation work @jstreetu

— Max Malter (@maximus611) August 17, 2015
She also hopes her group will offer an alternative to students who have flocked to BDS groups across the country because it was "the only option."
Though Rabbi Shmuley Boteach, a high-profile critic of BDS activism, thinks that movement is "filled with people who hate Israel," most of those student activists "are just really frustrated and don't have anywhere else to go," Farooqi said, adding that J Street U does not think BDS is "right or good."
Though she calls herself pro-Israel, Farooqi said that nation's "accomplishments are bookended by millions of things that they have done that are not so great."
Farooqi is a "perfect fit for J Street" because she has a "myopic understanding of history," Daniel Mael, a widely published pro-Israel author and former student activist at Brandeis University, told The Fix in an email.
His feelings about J Street are personal: One of its Brandeis activists accused Mael of harassment after a nasty argument, setting off a "yearlong disciplinary saga" against Mael that was chronicled by The Wall Street Journal.
Mael called J Street leaders "a band of ideologically driven, historically ignorant fools" who "think they have come up with innovative solutions that nobody in the history of the conflict has thought of."
While Jewish organizations "should be run by Jews," Mael said he doesn't fault J Street U for electing Farooqi, because it's not really a Jewish organization. "First and foremost, they follow a hard left ideology so it makes sense in that context."
Like The College Fix on Facebook / Follow us on Twitter
IMAGE: YouTube screenshot