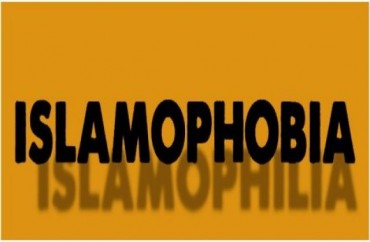 Iranian-born activist Maryam Namazie's lecture on radical Islam at Goldsmiths University (London) this past Monday evening was disrupted by members of the Students Union's Islamic Society.
The protesters shouted, threw themselves on the floor, and even shut off the video projector during Namazie's talk, which was titled "Apostasy, blasphemy and free expression in the age of ISIS."
Saying Namazie "violated their safe space" in a Facebook post, the protesters also accused her of harassment:
"The university should be a safe space for all our students. Islamophobic views like those propagated by Namazie create a climate of hatred and bigotry towards Muslim students.
"A university should be a safe environment/space for all students including Muslims in this sensitive time."
Footage of the lecture showed one student getting out of his seat and switching off a projector when a cartoon of the Prophet Muhammad was displayed.

Ms Namazie, who was recently blocked from speaking at Warwick University's students' union over claims she is "inflammatory", said after the incident: "When the talk went ahead as planned, ISOC 'brothers' attended the meeting in order to disrupt and create a climate of fear and intimidation."

Speaking to the Telegraph, she added: "They shut my projector, shouted over me, threw themselves on the floor. They created a climate of fear and intimidation. I spoke as loud as I could.

"Security had to come in to allow me to carry speaking and the same person who shut my projector came back into the room again. I shouted 'you have to get out' and security finally escorted him out."
EAGnews.org, which has a video of the event, notes that Goldsmiths' Feminist Society expressed sympathy for the protesters:
"We support them in condemning the actions of the Atheist, Secularist and Humanist Society and agree that hosting known islamophobes (sic) at our university creates a climate of hatred."
A Goldsmiths spokesman said the university supports freedom of speech.
Read the full Standard and EAGnews reports.
Like The College Fix on Facebook / Follow us on Twitter
IMAGE: Gerard Van der Leun/Flickr