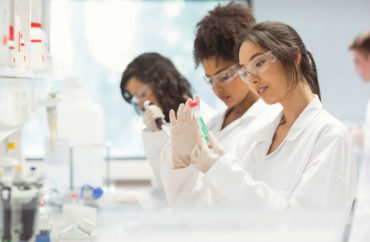 The National Science Foundation plans to dole out $29 million in the next two years to promote "gender, racial, and ethnic equity" by implementing systemic change in higher education STEM programs.
The foundation mandates that grant requests from universities offer data showing examples of such discrimination at their institution and outline how they will remedy the perceived systemic biases.
The foundation of this program, called ADVANCE, or the Organizational Change for Gender Equity in STEM Academic Professions, assumes that subconscious biases and stereotypes lead to institutional inequality and unfair treatment among faculty, according to its website.
The foundation operates under the paradigm that higher education often discriminates based on race, disability status, economic class, and gender.
Despite massive budget cuts, hiring freezes, furloughs, and other financial problems facing universities in the wake of the COVID-19 lockdown, this program is full steam ahead. The deadline for university officials to apply is in August, even amid the economic recession.
ADVANCE Program Officer Jessie DeAro told The College Fix the deadline to apply has not changed at this time.
The STEM fields eligible to get the boost during the fiscal years of 2021 and 2022 will include the "learning, social, behavioral, and economic sciences" — and exclude clinical sciences.
Estimating between 18 to 36 awards, individual institutional grants would be as high as $3 million, according to the foundation. DeAro said the $29 million amount is an estimate for the two fiscal years but the actual amount will depend on the outcomes of the upcoming years' budget processes.
ADVANCE aims to accomplish "gender equity" in STEM departments through transforming academia and implementing systemic change through facilitating widespread "interventions" and working with faculty to promote diversity in STEM.
"In order to address systemic issues all STEM faculty, administrators, and stakeholders likely need to be involved in the design and implementation and be potential participants in the project activities," the NSF states on the website.
"For example, practices in academic departments that result in the inequitable allocation of service or teaching assignments may impede research productivity, delay advancement, and create a culture of differential treatment and rewards," the website explains.
"Similarly, policies and procedures that do not mitigate implicit bias in hiring, tenure, and promotion decisions could lead to women and racial and ethnic minorities being evaluated less favorably, perpetuating historical under-participation in STEM academic careers and contributing to an academic climate that is not inclusive."
DeAro, the program officer, told The College Fix in an email that the foundation of the ADVANCE program is based in part on three reports that conclude that women are unfairly discriminated against in STEM career paths: "Removing Barriers: Women in Academic Science, Engineering, Technology and Mathematics Careers," "Transforming Science and Engineering Advancing Academic Women," and "Beyond Bias and Barriers: Fulfilling the Potential of Women in Academic Science and Engineering."
Through implementing this systemic change, the NSF states that the ADVANCE program targets students as well.
"The focus on equity and inclusion for STEM academic faculty is strategic, since faculty educate, train, and mentor undergraduate and graduate students and postdoctoral scholars and therefore have significant influence over the preparation, interest, persistence, completion, and career choice of future scientists and engineers," its website states.
Institutions eligible for the grant include non-profit colleges and universities and other non-profit organizations, such as museums and research facilities, but specifically targets minority undergraduate schools, such as tribal colleges and Historically Black Colleges and Universities.
MORE: Should grades be curved in order to bring more women into STEM?
IMAGE: Wave Break Media / Shutterstock
Like The College Fix on Facebook / Follow us on Twitter