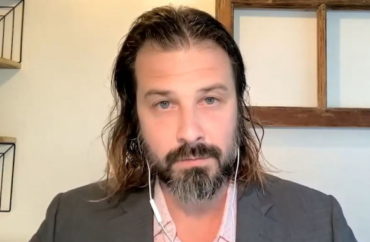 UPDATED
Nearly 400 Pennsylvania State University professors have signed a letter that defends antiracism teaching and administrative practices targeted in a lawsuit objecting to giving black students inflated grades.
The four-paragraph "Letter in Support of Antiracist Faculty at Penn State" denigrates a recent lawsuit filed against the university by Zack De Piero, who taught English at the school's Abington campus and has since filed a lawsuit that alleges he was discriminated against because of his race. He is white.
The 36-page lawsuit details a June 2020 exercise in which white faculty were told they are privileged because they can "breathe" while George Floyd could not.
The lawsuit alleges an educational equity administrator "identified 'those of us with privileged racial identities' who 'need to sit in it longer,' and she led the faculty in a breathing exercise in which she instructed the 'White and non-Black people of color to hold it just a little longer — to feel the pain.'"
Another allegation in the lawsuit claims De Piero, who taught in inner city schools before teaching at Penn State, was pressured to ensure consistent grades for students across color lines or it would demonstrate racism.
The signatories of the "Letter in Support of Antiracist Faculty at Penn State" include faculty from Penn State branches such as Erie, Fayette, University Park and Brandywine. Several faculty from the University of Michigan and other major research institutions also added their names.
But only three faculty members from the Abington campus — where De Piero taught — have signed their names to the letter as of June 12.
The lawsuit alleges:
The logic of Defendants' demands required that De Piero also penalize students academically on the basis of race. If, for example, students from East Asia or the Indian subcontinent excelled over other minority groups (who often had the same, if not lighter skin color), De Piero was asked to penalize them in order to equalize outcomes on the basis of race.

De Piero rejects this race-based and racist approach to teaching and evaluation.

De Piero had developed an assessment methodology designed to foreground the writing process so that all students, regardless of race, can achieve success if they put in timely work. In De Piero's mind, such an approach evens the playing field for all students, so that everybody can be successful in the writing classroom, irrespective of their educational background or racial identity.
The four-paragraph "Letter in Support of Antiracist Faculty at Penn State" does not address any of the specific claims in the lawsuit. Instead, it describes the lawsuit as one example of "attacks from reactionaries who claim that curricula, programs, and initiatives aimed at promoting inclusivity and equity are racist and divisive."
The letter also spends some time decrying De Piero's law firm, the Foundation Against Intolerance and Racism, complaining that its donors are shielded from identity.
"Through divisive, fabricated arguments, this group attempts to undermine and vilify faculty members who have dedicated their careers to challenging systemic racism in higher education while creating a welcoming environment for historically marginalized groups. To achieve their spurious goals, these reactionary forces have sought to weaponize the courts," the professors' letter states.
"We, faculty from higher education institutions across the United States, stand in solidarity with our colleagues at Penn State who have embraced ongoing efforts in diversity, equity, inclusion, and belonging (DEIB), which must be in addition to, not a substitute for, affirmative action and antiracist programs and policies," it adds.
Editor's note: This article has been amended to correct the spelling of Penn State Abington.
MORE: White Penn State professor who resisted race-based grading files discrimination lawsuit
IMAGE: Fox News screenshot
Like The College Fix on Facebook / Follow us on Twitter