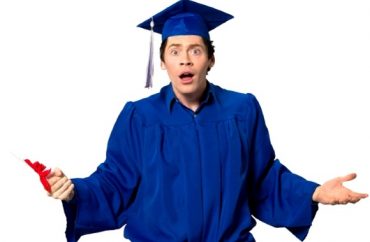 Degree holders earn more than high school diploma counterparts
Should everyone go to college?
The Bureau of Labor Statistics reports that only about one-third of all jobs require education beyond high school. That statistic — coupled with the growing mountain of student loan debt now totaling a whopping $1.2 trillion — has prompted the cost and need of a college education to become a major issue in American politics.
Bernie Sanders proposed "free" college for everyone and Hillary Clinton supports increased subsidies for more people. Donald Trump espouses "love" for the "the poorly educated."
His campaign co-chair and policy director, Sam Clovis, told Inside Higher Ed that schools should have "skin in the game" and that borrowing should be discouraged for certain majors and concentrations.
"If you are going to study 16th-century French art, more power to you. I support the arts. But you are not going to get a job… If you get into the esoteric aspects of a particular art field, you have to know that those are the circumstances."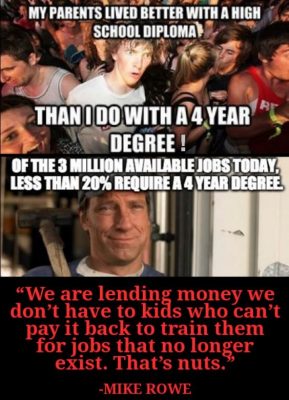 At least one image circulated online agrees with Clovis.
The meme states that less than one in five jobs in the labor market requires a four-year degree. Its creator states on Facebook that the message aims to illustrate that there are not as many jobs available requiring degrees as there are people going into debt to obtain degrees, noting four million degrees are given out every year, but the job market does not have positions corresponding to the degrees they possess.
But according to the U.S. Census, about one third of Americans have bachelor's degrees — and the Bureau of Labor Statistics show that only about one-third of all jobs require education beyond high school.
Moreover, the bureau predicts that the biggest growth in the next decade will be in the number of jobs that require a bachelor's degree or more.
According to the Pew Research Center, the disparity in earning potential between high-school graduates and college graduates has never been bigger, refuting another portion of the meme that claims "My parents did better with a high school diploma than I do with a four-year degree."
On average, Pew finds, college grads earn $17,500 more than high school grads and "The pay gap was significantly smaller in previous generations." Those with college degrees are more likely to be employed full-time and less likely to be unemployed.
The same report breaks down the data further. A 55-year-old parent of a college-graduate today would have graduated high school at age 18 in 1979. Without any additional education, their median income would have been just over $32,299 per year. Their children, receiving a bachelor's degree this month, can expect a median income of $45,500 in constant dollars. In other words, a college grad today can expect to earn 40 percent more than their high-school grad parents.
MORE: Student loan debt hits $1.27 trillion, grows $3,055 every second
As for the meme, it also quotes TV personality Mike Rowe suggesting that college education doesn't prepare students for the job market, and only wastes money.
Frederick Hess, director of Education Policy Studies at the American Enterprise Institute, told The College Fix that "most everyone could benefit from education that extends beyond K-12."
Stipulating that "there is definitely massive credential creep – whether or not those degrees represent real skills or are useful to graduates," he advises that "the answer is to gravitate towards higher education that is more customized and streamlined, where adults can obtain the training and credentials they need when they need them."
Addressing Clovis' suggestion that different majors should have different access to loans, Hess said that "risk-weighted loans make a lot of sense. But I'm hesitant to see the government [get] into the business of adjusting loan terms based on major, institution, or anything else. There's a lot of room there for political considerations and agendas to intrude."
MORE — STUDY: 15 percent of retirees have student loan debt
Like The College Fix on Facebook / Follow us on Twitter
MAIN IMAGE: — Shutterstock; Inside — Facebook screenshot (They're Dumbing Us Down)