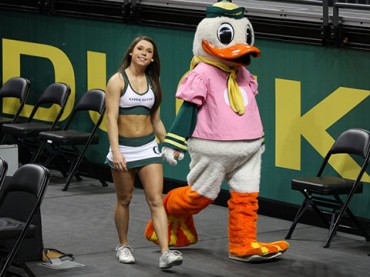 A new survey by a University of Oregon psychologist says that shockingly high numbers of women – and some men – in the Greek system on campus have experienced sexual violations. Suspiciously high numbers, actually.
The Daily Emerald reports that 48.1 percent of women in "Fraternity and Sorority Life" have experienced "non-consensual sexual contact," and 38 percent "attempted or completed rape." Those figures are 23.6 percent and zero, respectively, for men in the system.
The figures outside Greek life are 33.1 percent of women and 7.9 percent of men for contact, and 15 percent of women and 0.8 percent of men for rape.
The research will play into the school's response to sexual assault, and it's already shaping federal policy:
The survey was conducted by Jennifer Freyd, a UO psychology professor and sexual violence expert whose work has been featured during White House discussions about sexual assault.
The survey itself includes twice as many female responses as male, and "fondling" is the largest single answer among all groups – women, men and "non gender conforming." There's no definition of the terms.
The researchers said about 5 percent of undergraduates completed the survey.
Read the Daily Emerald article and the survey project page.
Like The College Fix on Facebook / Follow us on Twitter
IMAGE: Michael Li/Flickr