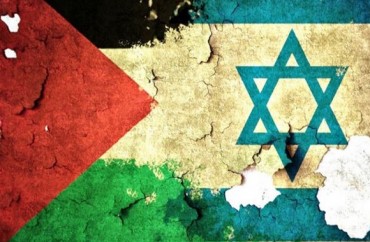 Decision prompts free speech concerns
UCLA – ground zero for vehement debates between pro-Israel and pro-Palestinian students – saw its student government recently pass a new bylaw which ostensibly prohibits it from taking a side in controversial global-political issues such as the Israel-Palestinian conflict.
Yet concerns remain untested and unresolved among liberal students, who say the resolution also presents a slippery slope in that it may silence speech and stances that can and should be taken by the Undergraduate Students Association Council.
The new bylaw restricts the current Undergraduate Students Association Council to only weighing and voting on "matters directly and substantially pertaining to student welfare issues," defined as "issues pertaining to student (health), resources, education, safety."
The student government adopted the resolution by a 9-4 vote on Nov. 17 after a lengthy debate, with some students who supported it saying they were elected to fight for students' immediate concerns, not get bogged down by divisive global issues.
"USAC is not the United Nations and you weren't elected to take stances on geopolitical issues that experts can't solve," said a student prior to the vote.
Others disagreed.
"This is very patronizing to just claim that we students should not try to use our own student government as a voice to speak up," said another student prior to the vote.
RELATED: UCLA student told she could not serve – because she is Jewish
A large part of the debate also accused the resolution of vagueness, saying who is to define what constitutes student "welfare."
In the wake of student protests and demonstrations calling for "safe spaces" at Yale and Mizzou, among other campuses, some conservative and libertarian students have decried the decline of free speech in academia. At UCLA, however, the new bylaw is now drawing criticism from liberal students voicing concerns over free speech.
The campus newspaper at UCLA, the Daily Bruin, published an editorial by Robert Gardner, a third-year political science major, who describes himself as "a first-year African-American transfer student… at UCLA." He denounced the change as "a major power grab by the council in an attempt to silence marginalized communities on campus."
According to Gardner, the new bylaw "further silences students like me… who now would find it more difficult to voice concerns on a campus that has proven, time after time, that black lives are not a priority."
Specifically, Gardner blames the pro-Israel student group Bruins for Israel for supporting the resolution after USAC voted last year to boycott products from the West Bank and Gaza Strip. Students for Justice in Palestine at UCLA, a pro-Palestinian and anti-Zionist group, called the divestment move "the largest victory thus far in the campus divestment movement in the United States."
Then-president of USAC, Avinoam Baral, was the only Israeli-born member of the council. He was barred by convention from voicing his opinions on the divestment vote.
Defending the new resolution, current USAC president Heather Rosen and committee member Ian Cocroft wrote that the Undergraduate Students Association is "supposed to 'fairly represent' students, not prioritize some student voices over others. Some disagreed, and, as a compromise, we changed the amendment and decided that, at a minimum, our official statements of opinion – our resolutions – should not be permitted to harm members of our campus community."
The minutes from the Nov. 17 meeting reveal the animosity surrounding the vote.
The vice president of Students for Justice in Palestine at UCLA, called the resolution "petty bullshit." His sister, also of SJP, defended the 2014 boycott measure as related to student-health: "You are in a place of privilege and we don't have the power and this resolution is just really frustrating that we have to constantly reaffirm and what student wellness affects us. If we tell you something is our student wellness you have to believe us you cant pick and choose [sic]."
Israeli-Palestinian issues have flared up multiple times at UCLA over the last year. In February, the USAC questioned whether sophomore Rachel Beyda was qualified to serve on its judicial board because of her Jewish faith. They then tried to hide the embarrassing video.
Shortly thereafter, the USAC passed a resolution sponsored by 18 student organizations condemning anti-Semitism.
Like The College Fix on Facebook / Follow us on Twitter
IMAGE: YouTube screenshot