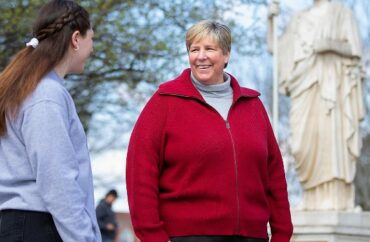 Other majors that may shutter include art history, health and French
A State University of New York school has cut four academic programs and may slash 14 others to address a $9 million annual deficit.
"SUNY Potsdam President Suzanne Smith is working in conjunction with SUNY on a plan that will put the College on a path to fiscal stability," according to a Tuesday statement by Associate Vice President for Communications Mindy Thompson, shared with The College Fix.
The email proposed the discontinuation of four academic programs.
Director of Public Relations Alexandra Wilke also shared with The Fix an email to faculty from Provost Alan Hersker's office, dated May 31.
"The proposed programs to be dropped are College Teaching (CAS), Computer Science Education (BA), Geographic Information Science (BS), and Speech Communication (BA)," according to the provost's email.
"Altogether, the impacted majors currently enroll a total of 27 students, representing one percent of the student body," it continued. "Two of the programs, computer science education and GIS, do not currently have any students enrolled."
The email from Hersker's office also clarified how program cuts will affect students.
"We are dedicated to minimizing any impact on our students," it stated. "If discontinuance is ultimately approved, an academic teach out model would be developed, to allow current students the opportunity to graduate, or, if desired, to transfer to other majors/programs here or at partner campuses."
University President Suzanne Smith (pictured) outlined the planned solutions for decreasing the deficit in a campus address Tuesday.
"While our institution's history of excellence runs deep, the national landscape of higher education has changed, and we have felt that shift." Smith said, "Since 2010, our enrollment has declined 43%."
"This brings us to our present circumstance. SUNY Potsdam is grappling with a structural, recurring deficit of $9 million annually," Smith continued. "We have failed to address the problem in any substantial way for far too long."
Smith stated that while the college does receive grants from New York State, the college cannot expect grant money to cover the deficit.
"We must confront this stark reality: there will be no bailouts," she said.
Fourteen other programs are on the chopping block, including art history, arts management, dance, chemistry, French, music performance, health, Spanish and theatre.
Smith emphasized that the programs were not being discontinued due to lack of quality or value. The programs were chosen to be cut due to low enrollment.
The Fix reached out to faculty members Laura Grabowski, James Donahue, Greg Gardner, and Brian Ladd on August 31 with a request for comment on the program cuts. Grabowski, Donahue, and Gardner declined to comment, saying they couldn't speak for the university on August 31.
MORE: University cuts doctoral admissions to raise graduate workers' wages
IMAGE: SUNY Potsdam
Like The College Fix on Facebook / Follow us on Twitter