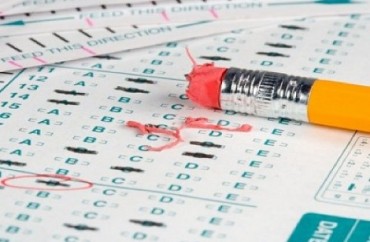 The New York State Board of Regents will consider tomorrow whether to go with a task force's recommendation to scrap a teacher literacy exam known as the Academic Literacy Skills Test.
"Part of the reason," NBC New York reports, is because "an outsized percentage of black and Hispanic [teacher] candidates were failing it."
It is expected the Board will abandon the assessment.
Critics of the ALST say it is "redundant and a poor predictor of who will succeed as a teacher."
Pace University's Leslie Soodak, a professor of education who served on the task force investigating state teacher exams, said "Having a white workforce really doesn't match our student body anymore."
The reformers believe tests like New York's Academic Literacy Skills Test can serve to weed out aspiring teachers who aren't strong students.

But the literacy test raised alarms from the beginning because just 46 percent of Hispanic test takers and 41 percent of black test takers passed it on the first try, compared with 64 percent of white candidates.

A federal judge ruled in 2015 that the test was not discriminatory, but faculty members at education schools say a test that screens out so many minorities is problematic.

Kate Walsh, the president of National Council on Teacher Quality, which pushes for higher standards for teachers, said that blacks and Latinos don't score as well as whites on the literacy test because of factors like poverty and the legacy of racism.

"There's not a test in the country that doesn't have disproportionate performance on the part of blacks and Latinos," Walsh said.

But she said getting rid of the literacy test would be "a crying shame."
Education professors told the Associated Press "the test doesn't measure anything that isn't covered in other exams students must take" like the SAT or GRE.
Hunter College School of Education Dean Michael Middleton says the exam is "the least related to the actual work that teachers do day to day."
It was Judge Kimba Wood (a failed President Bill Clinton nominee for US Attorney General) who allowed the use of the current ALST after ruling that two versions of a previous New York State teachers test were racially discriminatory.
A 2014 New York Post report noted that a majority of prospective New York City teachers could not pass the ALST.
MORE: Majority of prospective NYC teachers flunk literacy test
MORE: Judge: New York teacher exam is NOT racially discriminatory
Like The College Fix on Facebook / Follow us on Twitter