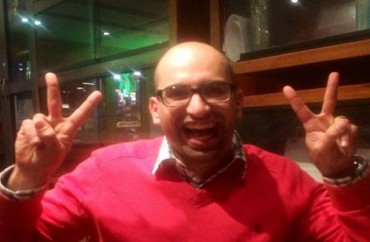 Including the infamous Steven Salaita and Jasbir Puar
After four professors beat back the American Studies Association's attempt to get their lawsuit dismissed this spring, they discovered a trove of evidence that confirmed their fears about the power and reach of the anti-Israel boycott, divestment and sanctions movement.
Nearly 17,000 documents belatedly turned over by current and former ASA leaders show that BDS supporters waged a campaign to "covertly" take control of the ASA and use it to support the BDS movement, according to a revised version of the lawsuit submitted Thursday.
The plaintiffs – current and former ASA members – told the U.S. District Court for the District of Columbia they have new claims for breach of contract and "acts in violation of specific [ASA] bylaws," and have added "discrete counts and detailed factual allegations" in response to the court's March ruling.
They also added four new defendants who serve on the "Organizing Committee and/or Advisory Committee" of the US Campaign for the Academic and Cultural Boycott of Israel, known as USACBI.
Two have national reputations: Steven Salaita (inset), who was ousted by the University of Illinois before he was formally hired owing to his "venomous" anti-Israel tweets, including one that "liked" an offhand death threat to a Jewish journalist; and Jasbir Puar, a Rutgers University "queer theory" professor who has accused Israel of conducting scientific experiments on Palestinians and harvesting their organs.
"This case is about the illegal, hostile takeover of a non-profit, academic association by leaders of an anti-Israel group," said plaintiffs' attorney Jennifer Gross of the Brandeis Center for Human Rights under Law, whose mission is to fight antisemitism on college campuses.
She said in a Thursday press release that the USACBI activists violated ASA's own rules to get and abuse "positions of trust" so they could "exploit the assets of the ASA to advance the agenda of the BDS movement."
The new evidence comes to light as pro-Israel advocates are claiming that antisemitism is on the rise on campus. The Anti-Defamation League said antisemitic incidents on U.S. campuses rose 59 percent in 2017 from the preceding year, according to a recent Jerusalem Post report.
Professors suing American Studies Association over Israel boycott vote say they have nearly 17,000 document… by The College Fix on Scribd
Packing nominees with (secret) BDS activists
According to the ASA constitution, the "Nominating Committee shall nominate candidates" who "shall be representative of the diversity of the association's membership."
But "starting with the 2012 election, and continuing for four consecutive years," every candidate they "selected to run" for president "was a USACBI Endorser and a vocal and active member of the boycott movement," says the revised complaint, shared with The College Fix by the Brandeis Center. (USACBI "endorsers" are publicly identified with their affiliations on its website.)
The organization says its mission is to "struggle to achieve an end to Israel's three-tiered injustice and oppression" against Palestinians and their territory, but the Brandeis Center says the group "proscribes any academic involvement with Israeli universities, including intellectual discourse, collaboration on research, and even study abroad programs."
MORE: Trump nominates Brandeis Center founder for education civil-rights post
This chronic and exclusive nomination of USACBI endorsers stood in sharp contrast to ASA leadership practices "at least going back to June 2007," the suit claims, when "not a single" endorser had been nominated for president.
ASA members "had no option but to vote for a USACBI Endorser" for president, but those candidates "consciously chose not to reveal their intentions to promote the boycott," including the president and defendant who "ushered in" the BDS resolution approved in 2013. At the time, the ASA was the largest academic association to support BDS.
The endorsers had to work secretly "because most [ASA member] scholars opposed any form of academic boycott, and many considered the USACBI's anti-Israel boycott to be anti-Semitic," the Brandeis Center said in its Thursday release.
One of the final sessions of this ASA! Revolution! #2017ASA pic.twitter.com/HSirdW3F0X

— #2017ASA (@AmerStudiesAssn) November 12, 2017
Freezing member rolls to prevent opposing votes
Plaintiff Simon Bronner, who recently retired from Pennsylvania State University, is an "honorary lifetime member" of the ASA and was editor of its Encyclopedia of American Studies during the 2013 National Council meeting, according to the lawsuit.
That made him an "ex officio" member of the council, but because he was known as a BDS opponent, then-President Curtis Marez "arranged" for Bronner to be "unceremoniously kicked out" of the meeting. Another newly added defendant, ASA Executive Director John Stephens, testified "this move was unprecedented."
ASA leadership also blocked another plaintiff, Penn State's Michael Barton, by enforcing a rule with no precedent, the suit claims: preventing members from voting whose dues were six months late but who had paid them to reinstate their membership.
MORE: Judge approves lawsuit against ASA for improper BDS vote
Because they knew "the general membership" of the association opposed the BDS proposal, ASA leaders "decided to freeze the membership rolls at a strategic moment" to keep those whose memberships had temporarily lapsed – and were known BDS opponents – from voting:
An email from John Stephens makes the point clearly: those who would pay their dues after the announcement of the vote would likely vote against the Resolution. … The email reflects the fact that many former and potential members, some who even paid to attend the 2013 Annual Meeting, conference, were not paying to join or renew their memberships to the American Studies Association, because of the Resolution.
The vote eventually took place "during a ten-day period in December" with abnormally low turnout, about a third of eligible members. Though three-quarters of them voted for the BDS resolution, that only amounted to 21 percent of "total membership."
Hence, the vote violated ASA bylaws that require "two-thirds of the members convened on the first full day of the Annual Meeting" in November, according to the suit.
Newly obtained documents suggest anti-Israel activists 'covertly' took over American Studies Association by The College Fix on Scribd
'We were nominated in order to build momentum for BDS'
Salaita, the would-be University of Illinois professor who had tweeted that "Zionists" make antisemitism "honorable," figures into the timeline of the 2013 vote by way of an opinion piece he wrote three months later.
A current member of both the National Council and USACBI leadership, Salaita had written that he "worked with USACBI for around five years—closely during the process to pass" the BDS resolution. That "confirms that USACBI was behind" the resolution, according to the suit.
Rutgers professor Puar, who says Israel harvests Palestinian organs and served on the nominating committee, was the instrument by which BDS supporters would "pack" the National Council.
Known antisemite & prof at @RutgersU Jasbir Puar threatens legal action if audio released https://t.co/DDzO5xzO3I pic.twitter.com/JAW9OrvHZp

— 🇮🇱دودول طلا👨🏻‍💻 (@lievan_tem) March 11, 2016
MORE: Meet the professor who says Israel experiments on Palestinians
An email by defendant Sunaina Maira said that "Jasbir is nominating me … for the Council and she suggests populating it with as many [USACBI] supporters as possible." Another BDS activist, a professor from the University of New Mexico named Alex Lubin, was even more explicit in an email:
In my conversations with Jasbir it's clear that the intent of her nominations was to bring more people who do work in, and are politically committed to … the question of Palestine … we were nominated in order to build momentum for BDS even though the question of BDS in American Studies Association may or may not emerge while we're on the council.
All these documents show the defendants launched a "focused campaign to capture a society of academics with no relationship to Israel, its Arab neighbors, or the Arab/Israeli conflict," Aviva Vogelstein, director of legal initiatives for the Brandeis Center, said in the release.
The Fix reached out to the ASA and individual defendants multiple times via email. Only Maira responded, declining to comment because the "lawsuit involving the ASA is ongoing."
MORE: University of Illinois buys off Salaita with $600,000 settlement
IMAGE: Steven Salaita/Facebook
Like The College Fix on Facebook / Follow us on Twitter