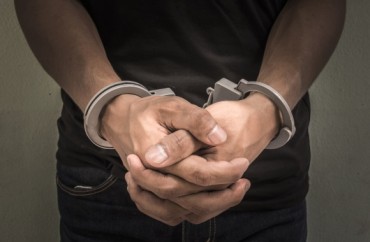 Recent headlines declared that the suspect police say is responsible for racially charged graffiti found at the University of Maryland has been arrested, but none of those reports indicated the race of the suspect.
The College Fix, after repeatedly calling and emailing the university for comment, finally received an answer Wednesday. The 18-year-old suspect, Terrell Demonte Alexander, is black, a public information officer with the University of Maryland Police Department confirmed via email.
Recent articles by The Washington Post, Associated Press, NBC, The Baltimore Sun and the Diamondback campus newspaper about the arrest did not include that information. The University of Maryland Police Department also had not included that information on its statement about the arrest.
The College Fix sent email inquiries about Alexander's race to the Diamondback (including its editor-in-chief), the Sun's Liz Bowie, and WaPo's Lynh Bui. None responded.
Alexander has been charged by police with two misdemeanor counts of malicious destruction of property and two misdemeanor counts of damage to property of certain classes of persons or groups, police said in their statement. If found guilty, he can face as much as three years in jail and a fine of $5,000, the police stated.
The Jan. 10 arrest warrant stemmed from "racially charged writings" found on campus in late October and early November, according to the police statement.
"We take incidents of hate-bias in our community very seriously, which is reflected in the extensive effort to identify the individual responsible," University Police Chief David Mitchell said in his statement, adding that officers nabbed the suspect using a forensic investigation of writing samples, security footage reviews, and witness interviews.
The Diamondback reports that Alexander is a former University of Maryland employee. This marks the second time in recent months that a black UMd employee has been accused of hate-crime hoaxes. Another black former employee, 52-year-old Ronald Alford, was arrested on a similar charge last fall.
Recently the University of Maryland ditched its state song due to its Confederacy connections, launched a massive new censorship effort, and deemed "hate speech" as a cult activity.
MORE: Man charged in UMD 'hate' incident is black former employee
MORE: UMD launches massive censorship effort after murder of black student
Like The College Fix on Facebook / Follow us on Twitter