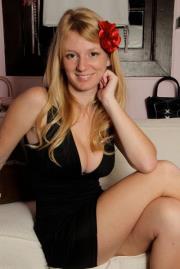 Nine percent of Yale University students who participated in a recent survey on sexual behavior reported having been paid for sex at least once. Three percent said they had participated in bestiality, and more than half said they had "engaged in consensual pain" during sex.
The survey was administered to a group of about forty students on Saturday, during a workshop meant to prompt students to "reconsider their idea of 'normal'," according to the Yale Daily News.
The workshop was taught by Jill McDevitt, a 27-year-old "sexologist" who also owns a sex shop in West Chester, Pennsylvaina, which sells vibrators and various sex toys.
She has posted videos of her educational workshops online, including one in which she demonstrates oral sex on a carrot.
"People don't think a college student at an Ivy League university would accept payment for sex but I've never had asked this question on a college campus and not had 'yes' answers," McDevitt told the Yale Daily News.
It is not clear to what extent the participants in the survey represent the student body as a whole. However, it will come as a shock to many that a significant number of students at an elite Ivy League school have accepted payment for sex, or have engaged in  bestiality.
McDevitt's workshop was part of a series of sex-themed events held at Yale University over three days, called "Sex Weekend."
Another event during Sex Weekend included instruction in sadism and masochism, based on the book 50 Shades of Gray.
McDevitt also asked students to report on their "incest fantasies."
One student who participated in the McDevitt workshop, Alex Saeedy, spoke favorably of the event. In a statement to the YDN, he said he felt the point of the event was "to bring up things we thought were so taboo and desire or urges we criticize are just regular parts of sexual psychology."
Others on campus, however, did not approve of the tone of the events.  In an interview with The College Fix, sophomore Elaina Plott said, "I think sex week in general is very sad because it reduces sex to such a triviality, and to something we talk about in such an alarmingly casual manner."
Another current Yale student, who wished to remain anonymous, called this year's Sex Weekend "another tasteless exhibitionist parade."
Yale has a long history of hosting sex-themed events at the university that appear, on the whole, to be intended more to titillate students than to educate them. Sex Weekend is organized by students, but is overseen and approved by university administrators, who grant the use of classrooms and university facilities for the events.
Numerous U.S. universities have begun to host "Sex Weeks" in recent years, a trend that was pioneered by Yale. Past events at Yale have included appearances by porn stars, live nudity, sex-toy giveaways, and screenings of a hard-core porn films, including one that reportedly depicted "fantasy rape."
At the time of publication, Yale officials had not responded to The College Fix's email request for comments on the events that took place last weekend.
Nathan Harden is editor of The College Fix and author of the book SEX & GOD AT YALE: porn, political correctness, and a good education gone bad, which details the radicalism and moral decline at America's most influential university.
Click here to Like The College Fix on Facebook.
Follow Nathan on Twitter @NathanHarden
(Image / Jill McDevitt)