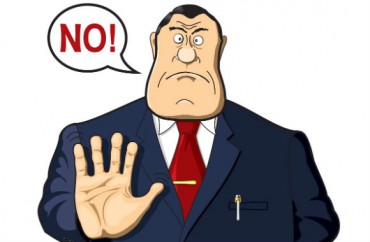 UPDATED
'Might cause some students to protest'
Comedian Adam Carolla and radio show host Dennis Prager won't get to include California State University-Northridge in their campus documentary No Safe Spaces, at least for the time being.
The duo's lawyer fired off an accusatory letter to the administration claiming that it "may have caused damage by committing unlawful content-based discrimination" in blocking them from filming on campus at the end of a reservation process, The Hollywood Reporter reports:
The filmmakers say they also were told that the appearance of Prager and Carolla might cause some students to protest, and in a letter informing them that they weren't able to use the venue, a CSUN a representative wrote: "The scope and logistics around the event is just not feasible."
MORE: Prager and Carolla to make 'safe spaces' documentary
What were those logistics? The president of the University Corporation, CSUN's nonprofit auxiliary, cited "security concerns and electronics" in an interview with THR:
"I can't have my people scrambling at the last minute," [Rick] Evans said. "Availability is the first step, not the last one, and there were enough dangling loose ends for me to deny the request, for their sake and ours. We need to start from scratch. I want this event to occur. The police department will determine the necessary level of security."
Adam Carolla off to a rocky start filming movie about political correctness at universities https://t.co/Hola5EGtHf pic.twitter.com/IT1JJHFatf

— Hollywood Reporter (@THR) December 7, 2016
Carolla and Prager's lawyer said the university "kept changing" the reason for why the reservation hadn't closed yet, and that they were "strung along for six weeks":
"To then back down from the 'content' claim and now use a laughable 'logistics' excuse is also disturbing."
Evans, the University Corporation president, told The Fix in an email that the "loose ends" he mentioned were necessary rental details that hadn't been nailed down as the Dec. 1 shoot date approached.
They had not agreed "to the level of security for example," he wrote:
No walk thru with the appropriate CSUN technical folks had yet occurred, and it was becoming difficult to coordinate. Knowing that post-tech walks always result in more demands on university staff, by mid-November, based on lack of clarity, very short preparation time left, I determined that it could not be accommodated. This was in the best interest of all involved.
Evans said he turned down the rental request Nov. 18 but only heard back from the duo's representative on Monday – after Carolla and Prager had gone public about the snafu in a podcast – seeking another date to shoot:
We responded affirmatively and asked them to contact us. I have every reason to believe we will be able to accommodate it for a different time in the near future.
The Dec. 1 date was particularly challenging for CSUN because it was "during the end-of-year/end-of-semester period," and the corporation "is paid to avoid jamming up university staff with a last-minute scramble," Evans said.
Evans noted both Prager and Carolla previously appeared together at CSUN, but that was "in the pre-Trump, pre-safe space era," as THR says.
How much organizers will have to pay for mandatory security has frequently been a sticking point – and sometimes a reason for cancellation – when a campus event has a conservative or libertarian bent.
UPDATE: University Corporation President Rick Evans responded to The Fix with details about the "loose ends" he had mentioned as roadblocks to scheduling the event for Dec. 1. The article has been amended with Evans' remarks.
MORE: Cal State-LA demands $621 to let Ben Shapiro speak
Like The College Fix on Facebook / Follow us on Twitter
IMAGE: pavelmir/Shutterstock