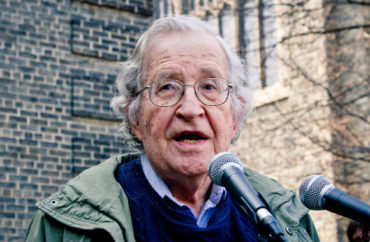 EDITOR'S NOTE: Bruce Gilley has requested the withdrawal of his article from Third World Quarterly, saying he regrets "the pain and anger that it has caused for many people." Learn more at our Thursday post.
Opens 'dangerous doors' if besieged journal retracts article
A political science professor who came under international fire and calls for censorship for writing a pro-colonialism article is finding some support from a surprising place: Noam Chomsky.
The prominent anti-war activist and emeritus professor of linguistics at MIT is a member of the editorial board at peer-reviewed Third World Quarterly, which published "The case for colonialism" as a "viewpoint," or scholarly op-ed, in this month's issue.
Chomsky told The College Fix via email that while the method by which the article was published should be reviewed, he opposes demands to retract the article, saying it opens "dangerous doors."
Fifteen of his colleagues resigned from the TWQ editorial board to protest the publication, saying that Portland State University Prof. Bruce Gilley violated the "very principle of free speech" by causing "offence and hurt" with his colonialism article.
Gilley himself is facing a sustained social media campaign to discredit his writing and hamper his career, led in part by a Syracuse University professor who accused him of "justifying ethnic cleansing" in an unidentified TWQ article Gilley wrote.
Get his PhD revoked?
A tenured scholar of Chinese and Asian politics, Gilley came under withering criticism by academics, students and activists by arguing that colonialism has created net positives in some instances.
In the article, he also criticized those who act as apologists for "atrocities visited upon Third World peoples by anti-colonial advocates."
While early petitions demanded Gilley's firing for expressing "white supremacist" views and allegedly practicing shoddy scholarship, they have been joined by a more professional effort to blacklist Gilley from publishing in reputable journals.
Farhana Sultana, whose specialty at Syracuse is water governance, was one of the first academics to organize a public response through social media.
She drafted one of two Change.org petitions against Gilley, which garnered more than 10,000 signatures and was sent to the journal's editor-in-chief and publisher Monday.
MORE: Public university won't punish professor for defending colonialism
Sultana purportedly mused on Facebook about getting Princeton University to revoke Gilley's doctorate, according to a screenshot posted by Legal Insurrection, the conservative website founded by Cornell Law Prof. William Jacobson.
Another screenshot purportedly shows she gave encouragement to a PSU student who suggested a protest outside Gilley's office.
In a purported Sept. 13 email by Sultana to professors asking them to sign her petition, also posted by Legal Insurrection, the Syracuse professor calls Gilley a "racist fascist author" for "alt-right websites."
She said TWQ published an article he wrote "justifying ethnic cleansing" that "should have generated pushback then but it did not," adding: "I think that emboldened both the author and the journal."
It's not clear which article is mentioned by Sultana, who did not respond to requests for comment or clarification sent by email, Twitter direct message and phone. However, in a 2007 article for TWQ titled "Against the concept of ethnic conflict," Gilley argues that "ethnic conflict" as a concept is wanting in that it homogenizes distinct political phenomena.
MORE: Portland State blitzes job applicants with 44 diversity questions
The Fix also could not find a Gilley connection to well-known alt-right publications, per Sultana's alleged accusations. The professor has been published in various high-ranking social science academic journals, has written op-eds for The Wall Street Journal, and was a reporter in the 1990s for the short-lived Eastern Express newspaper in Hong Kong.
Agree, this is shock tactic & click-bait. This white supremacist has published offensive material before. Shame TWQ published this at all

— Dr. Farhana Sultana (@Farhana_H2O) September 12, 2017
'Causes offence and hurt and thereby clearly violates free speech'
TWQ's future is also at stake as its editorial board members publicly dispute how "The case for colonialism" came to be published.
Editor-in-Chief Shahid Qadir justified the process behind the article's publication Monday, saying it went through the customary double-blind peer review process and that opposing viewpoints would be published.
"Throughout its 40 year history, TWQ has been at the forefront of shaping development discourse, with Viewpoint essays enabling challenging opinions to be tested … and then debated upon publication by fellow researchers," Qadir wrote.
The journal is not endorsing the "procolonial" views of its author, "as would be the same for any Viewpoint piece," he continued. "We are however presenting it to be debated within the field and academy, which this justifiably has been."
The resigning members of the editorial board disputed Qadir's claim and said the article was published without their input, in a public letter Tuesday.
MORE: Faculty forced to pledge allegiance to diversity or lose their jobs
They said the article was rejected by its peer reviewer for the "viewpoint" section after the "special issue" section also rejected it. Beyond the journal's procedural violations, Gilley's paper violated other norms, the resigning members said:
We all subscribe to the principle of freedom of speech and the value of provocation in order to generate critical debate. However, this cannot be done by means of a piece that fails to meet academic standards of rigour and balance by ignoring all manner of violence, exploitation and harm perpetrated in the name of colonialism (and imperialism) and that causes offence and hurt and thereby clearly violates that very principle of free speech.
The letter is signed by 15 academics, including Vijay Prashad, a professor of international studies at Trinity College, who was active in leading the social media campaign against Gilley's article.
"[Third World Quarterly] was started as an intellectual venue for anti-colonial thought, to build ideas against colonialism," he tweeted. "To have an imperialist essay in a journal with this history is the abomination. Other venues for such essays."
Chomsky: Destroying journal is 'likely consequence of mass resignation' 
Not all of the journal's editors agree with the mass resignation or calls for Gilley's paper to be retracted, however.
Chomsky, the famed MIT linguist who opposes retraction, told The Fix that a rebuttal would provide an opportunity for education.
"Journals often don't follow proper procedure," he said. "In such a case, the editor [Qadir] should explain and apologize publicly, as I assume he will. I don't think that that's a sufficient reason to destroy a journal — the likely consequence of mass resignation."
TWQ's Qadir did not respond to a request to respond to the claims in the resignation letter.
Gilley's university appears to be more explicitly distancing itself from his work as the furor around his article has grown.
Margaret Everett, interim provost and vice president for academic affairs at Portland State University, originally acknowledged the right of "faculty to explore scholarship and to speak, write and publish a variety of viewpoints and conclusions."
In an updated statement sent to The Fix Tuesday, Everett added to her original statement:
The "viewpoint" piece in the Third World Quarterly written by Portland State University political science professor Bruce Gilley, entitled "The Case for Colonialism," has generated a robust conversation and significant public and scholarly reaction. The ideas and perspectives offered by Professor Gilley are his own and do not represent Portland State University or our Department of Political Science.
Gilley has not publicly commented on the controversy and has yet to respond to queries from The Fix.
MORE: Students 'reoccupy' Canada Day, which celebrates 'colonialism'
IMAGE: Andrew Rusk/Flickr
Like The College Fix on Facebook / Follow us on Twitter