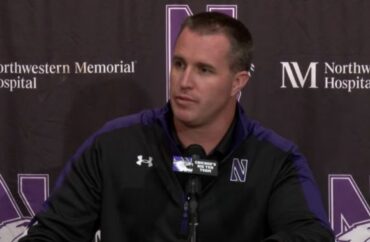 University's report concluded a lack of 'sufficient evidence to believe that coaching staff knew about the ongoing hazing conduct'
The most successful football coach in Northwestern University history filed a lawsuit for more than $130,000,000 after the school fired him over alleged hazing incidents which its own investigators concluded he knew nothing about.
Winston & Strawn filed the lawsuit on behalf of Pat Fitzgerald after the university allegedly broke an oral contract to keep him as head coach.
The $130,000,000 figure includes lost compensation up to his employment contract expiration date and additional amounts for compensatory damages for "emotional distress."
Northwestern University did not respond to a College Fix inquiry sent in the past week that asked for comment on the lawsuit.
"As head coach of the football program for 17 years, Patrick Fitzgerald was responsible for the conduct of the program," the university stated in comments to the media. "He had the responsibility to know that hazing was occurring and to stop it. He failed to do so."
Northwestern's report found otherwise.
The state lawsuit alleges the Big Ten university fired him "for-cause" despite an external law firm finding Fitzgerald (pictured) had no knowledge of the hazing. "The Hickey Report confirmed that Fitzgerald did not know of the alleged hazing until the allegations were reported in late 2022," the lawsuit states.
As a result, Northwestern and Fitzgerald "entered into a binding, legal, oral contract" in July 2023 that required the coach to take "a two-week suspension without pay and without any legal challenge."
MORE: Judge orders UConn to pay $63K for Title IX kangaroo court victim
He would also make "a public statement that was supportive of Northwestern's football program." The coach accepted this to move beyond the controversy, according to the lawsuit.
University President Michael Schill reportedly wanted Fitzgerald to "take a hit" for the hazing, according to the lawsuit.
Just a few days after accepting the deal, Northwestern broke this contract.
The lawsuit states that Fitzgerald put in place mechanisms for catching and reporting hazing, including annual surveys that included questions about hazing, post-graduation exit interviews, and regular meetings where he stressed the team's zero-tolerance policy.
He also "maintained an open-door policy and invited his athletes to contact him at any time, which provided numerous opportunities for Northwestern football players to discuss any hazing conduct that occurred within the Northwestern football program."
The law firm investigators "did not discover sufficient evidence to believe that coaching staff knew about the ongoing hazing conduct," an executive summary of the report stated.
"They determined, however, that there had been significant opportunities to discover and report the hazing conduct," the summary stated.
President Schill, in his statement on July 10 explaining the firing, reiterated there was no evidence Fitzgerald knew of the hazing. "The hazing was well-known by many in the program, though the investigator failed to find any credible evidence that Coach Fitzgerald himself knew about it," he stated.
"The defendants' actions have exacted terrible, measurable costs to Mr. Fitzgerald and his family," attorney Dan Webb stated in a news release. "This lawsuit seeks to bring some measure of justice for our client and to hopefully dissuade the defendants from inflicting such harm on others."
He did not respond to a request for comment on any updates this week.
An experienced litigator on campus due process issues told The Fix that terminations can have a lasting effect and so a proper process must be followed.
"Losing employment from termination has permanently damaged the career paths of faculty members," Andrew Miltenberg told The Fix via a phone interview. "In my experience, careers and reputations have been destroyed before hearings take place due to professional rivalry or lack of confidentiality."
"This causes faculty careers to be destroyed long before he or she can defend it," he said.
The public nature of termination means some faculty were "unable to secure a job in both the US and overseas."
"Because terminations of faculty members end many long-term careers, faculty should be entitled to minimum protections through appeals for termination and confidentiality of the termination process," Miltenberg told The Fix.
Last chance to support student journalists during our Back to School fundraising campaign! We're very close to our goal of $25,000. The deadline for the matching offer is quickly approaching so please donate by Oct. 31 to help us meet the goal. Thank you!
IMAGE: Northwestern Athletics/YouTube
Like The College Fix on Facebook / Follow us on Twitter