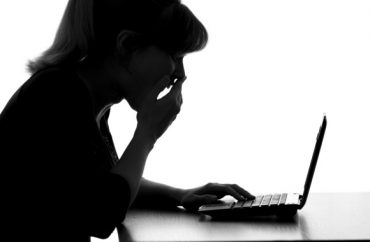 GRAPHIC CONTENT
Other events include Burlesque workshop, drag makeup tutorial, Cunty MeMe performance
Can masturbating to the image of a pile of cash bring … a pile of cash in real life?
It's an example of a concept advanced as part of Northwestern University's annual student-led Sex Week observance, which has been moved online in response to the coronavirus lockdown. Northwestern Sex Week launched Monday and runs through May 15.
The "Masturbation for Manifestation" event is hosted by an affiliate with the Chicago-based sex KiKi community, described as a movement that advances sex-positive erotic arts, culture and education.
On its website, it describes masturbation for manifestation as some sort of "sex magic." The notion is similar to the law of attraction popularized by the book "The Secret."
"At the moment of orgasm that's when you start to manifest and when you start to see yourself have whatever it is that you want," the website states.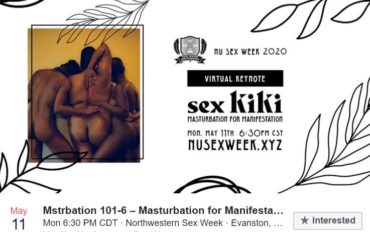 The Northwestern Sex Week website adds: "Spiritually anchored, it transmutes sexual energy into unwavering life force (manifestation)! It aligns the chakras, reminds us of our embodied wisdom, to ignite our fullest potential."
The workshop, slated for Monday according to the Sex Week schedule, was set to be hosted by Coriama, described by organizers as a "pleasure activist, artist and sensual activator."
Other events throughout the week will include a Burlesque workshop, a drag makeup tutorial, a "Sex Week Feud" game, and a "Sex Story Slam," according to the online schedule.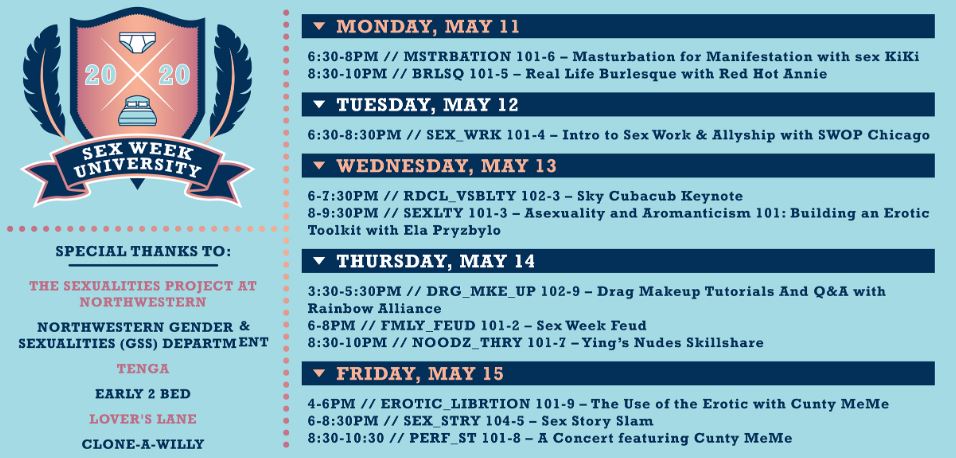 As part of the sex week observance, organizers plan to give away prizes such as vibrators and other sex toys to participating students.
"We held it virtually because we host it every year and we didn't feel this year should be any different just because the university was online," a student organizer told The College Fix.
On Friday, a performer named Cunty MeMe is scheduled to host an "Erotic Librtion" workshop as well as a concert. MeMe, who uses the pronoun "they," told The College Fix the workshop will explore sex outside of the five senses and how individuals can develop intimacy with themselves.
MeMe said the concert will be a debut of music off of their new mixed-tape "Programming." MeMe said the music goes along with the theme of sex and exploring the topic through art.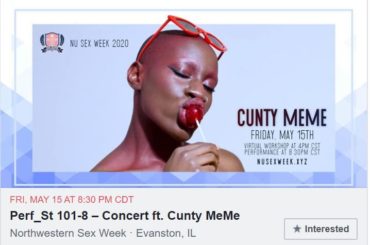 "Sex is power," MeMe told The Fix. "Sex rules everything and if we cannot understand what is better for ourselves, we are allowing, in a way, and giving more power to those who define sex for us and oppress us with their definition."
MeMe said conversations about sex are important long before college.
"I actually think that when we have less knowledge about sex is when we egg on more sexual assault and harassments, hook up culture," MeMe said. "I feel the fact that we talk about sex in the college atmosphere, in my opinion, is helping have a conversation that should be happening at an extremely young age. Consent should not be a thing you first hear about coming into your first semester of freshman year. By that time it's already too late."
Members of the university's women's center, as well as members of the university's media affairs division, did not respond to requests for comment.
MORE: Harvard hosts 'Anal Sex 101,' 'Oral Sex 101' and 'fatphobia' workshops
INSIDE IMAGES: Facebook screenshots
MAIN IMAGE: Shutterstock
Like The College Fix on Facebook / Follow us on Twitter