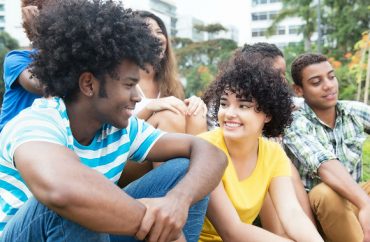 Task force had trouble getting enough survey responses
Northwestern University is planning to quadruple the number of safe spaces on campus for black students, according to a task force report released last month on the "Black Student Experience."
The 149-page report says the black student community at NU feels "dissatisfied, exhausted and alienated on campus." It lists more than 40 "campus bias incidents" dating to 2006 in one of its eight appendices, which total 90 pages.
Basic math is the biggest problem at Northwestern, according to the report: Fewer than one in 10 students is black.
The task force recommends increasing the number of black students – by giving them more attractive financial-aid packages – and "relentless[ly]" recruiting black faculty and giving them "research opportunities."
The report also recommends that Northwestern "[e]mbed opportunities into the fabric of Northwestern where students learn about and are challenged to wrestle with issues of diversity, social inequalities, social justice, and inclusion."
It tells undergraduate schools that have not approved a United States-focused "social inequalities and diversity course" to hurry up their review of the proposed course requirement.
The university should conduct a "cultural audit" of all Northwestern buildings and spaces to ensure that they are "representative of the diversity that exists within the University."
Perhaps most important for black social life, the report recommends the designation of three more black-focused spaces on campus for both "large social events" and "more intimate gatherings," because not everyone feels welcome at the Black House.
The People Have Spoken – Northwestern U to halt "integration" plans for "all-Black" house: https://t.co/gJW7wTUjwk pic.twitter.com/BRGIh9lGfZ

— EBONY MAGAZINE (@EBONYMag) November 18, 2015
Black women less satisfied than black men
The data-filled report includes 14 different themes that emerged after a review of existing data, focus groups, and the 2016 Black Student Experience Survey.
Under one theme, diversity among black students, a student athlete said black students "can always fall back to our team" if they are troubled. "For a lot of [black students], they don't have this safe space. The Black House is their only safe space."
Many black students reported being "the only one" or one of a few in their dorms and classes, and feeling isolated. They feel left out of the university's social life, with one student saying black students are having "more mental health issues" as a result, "and it is scary."
Their satisfaction with the Northwestern experience has been steadily dropping in the senior survey over 10 years, particularly with regard to the cultural competency of their professors and teaching assistants – with black women feeling less satisfied than men.
Shouldn't have to explain my shower cap
In the 2014 spring survey of black students, more than half said they had "witnessed or experienced harassment or discriminatory behavior," which also includes gender and sexual orientation. In the 2016 survey, it was slightly up – but twice as many students said that behavior had taken place in class.
They felt particularly out of place culturally and economically at Wildcat Welcome, the orientation week. One black student was offended when a fellow dorm resident asked why she was wearing a shower cap in the shower: "It made me feel like … weird having to explain."
Members of task force behind Black Student Experience committee hope to see changes soon. https://t.co/ZAkrWgNEow pic.twitter.com/Gq5epH6H2h

— Daily Northwestern (@thedailynu) September 22, 2016
But the report says black students found their place in "academic pre-orientation programs" and in residential units and student groups. The importance of the Black House came up repeatedly, though a quarter of black or part-black students said they never went.
They are irritated that they can't throw parties at the Black House, and they resent not having their own Greek houses on campus. Some called for "black-centered" residential units.
"In fact, some African American/Black students go so far as to blame the predominantly White fraternity and sorority community for campus climate issues," the report says.
And yet other students said they didn't feel "black enough" to fit in with the dominant African-American culture at Northwestern.
A part-black student from Minneapolis told his focus group he felt "weird" at the Black House, and "because I wasn't super involved with all the activism on campus, I felt kind of excluded."
"Other students described an almost 'all or nothing' aspect to the Black community at Northwestern: complete engagement or, the opposite, disengagement," the report says.
Gift card bonanza
The task force, which had four students and 11 faculty and staff, was created in November 2015 after protests erupted at Northwestern in response to university plans to move administrative offices into the Black House, a meeting place for black students for four decades, and Multicultural Center. Several student groups would have been forced to share spaces.
The university dropped the plans and organized "listening sessions" where black students defended the Black House and criticized Northwestern's resources for black students.
In Focus: Following Black House controversy, Northwestern discusses its safe spaces. https://t.co/HjWAs5lN3F pic.twitter.com/jNlFuujNqG

— Daily Northwestern (@thedailynu) February 24, 2016
Northwestern apparently had trouble getting enough black students to complete the campus climate survey. As a reward for completing the survey, students could enter into a drawing for one of 10 $15 Starbucks gift cards or one of 10 $15 Chipotle cards.
In a second reminder about the survey, the executive director of campus inclusion and community dangled a $100 Amazon gift card to two randomly selected students who completed the survey May 8-11.
In a third reminder, task force member and student government leader Lawrence "Macs" Vinson offered yet another $100 Amazon gift card to one randomly selected student who completed the survey May 17-22.
Faculty and staff facilitated six focus groups at the Black House and multicultural center; only 63 of 510 invited students participated. Only 154 students of 658 who identified as black or part black completed the survey, and 215 answered at least one question.
Too many classes to graduate
Reprinted in Appendix A is a list of fall 2015 demands from "Concerned Students of Northwestern University": that all faculty and administrators go through an incentivized mandatory cultural competency, privilege awareness, and anti-oppression training program.
Another demand is that the university create a credit system that requires only three classes per quarter to graduate with a degree, to "normalize a healthier academic culture on campus."
The activist group also demanded that Northwestern recognize the importance of preserving and enhancing student safe spaces, and consult students before "drastic alterations to the functions and physical structures of their spaces" – possibly a reference to the Black House controversy last fall.
Any space and position that bears and honors the names of figures including Henry Ford, John Evans, Phillip Sheridan and Frances Willard must be removed immediately and replaced by influential people of color, the group demanded.
It also called for the Black House be designated a historical site and "be permanently preserved for the entirety of Northwestern's future."
Black House renovation recommendations have been submitted to Student Affairs. https://t.co/TATZrrpoAQ pic.twitter.com/nshZAi8nDQ

— Daily Northwestern (@thedailynu) May 24, 2016
The Northwestern administration did not return multiple calls and emails from The College Fix.
Like The College Fix on Facebook / Follow us on Twitter
IMAGE: Daniel M Ernst/Shutterstock