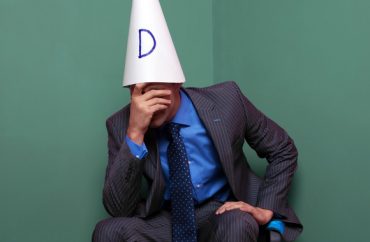 These 'lunatics' offend people!
Northwestern University isn't exactly known for its stirring defense of academic freedom.
It subjected Prof. Laura Kipnis to a two-month Title IX investigation for writing an essay criticizing "sexual paranoia" on campus.
It censored a faculty-produced bioethics journal for a year because it published an issue on "Bad Girls" in medicine. (Again, Northwestern has a problem with female sexuality.)
It kicked Prof. Jacqueline Stevens off campus in July, in "direct violation" of Faculty Handbook procedures, for allegedly being a physical threat to her colleagues (and "borderline racist" toward her black department chair – they loathe each other).
Stevens was just allowed back to teach her fall classes after completing a "fitness for duty" evaluation, but may still be disciplined for "lack of civility" (sound familiar?). She maintains the school retaliated against her leading the (successful) charge against Northwestern choosing a retired military general to lead its new global studies institute.
And now President Morton Schapiro is making his suburban Chicago school the anti-University of Chicago, by publicly praising trigger warnings and making crazy allegations against those who believe students are coddled.
Mixed message, you think?
Wait a second – I can't say "crazy," can I? That's a microaggression against people with mental illnesses, which by one psychiatrist's estimate is half the college student population.
And Schapiro did it first.
According to The Daily Northwestern, Schapiro was speaking to new students Monday when he went on a tirade against anyone who is worried students are being sheltered from intellectual diversity on campuses like Northwestern's:
"The people who decry safe spaces do it from their segregated housing places, from their jobs without diversity — they do it from their country clubs," Schapiro said. "It just drives me nuts." …

Calling people who deny the existence of microaggressions "idiots," Schapiro said he clearly remembers every microaggression he has experienced.

Microaggressions "cut you to the core" and aren't easily forgotten, he said.

Schapiro also criticized those who "conflate" the use of trigger warnings with undermining the First Amendment, saying students should be warned about potentially traumatic content, such as the Holocaust or lynching of black people.

"If they say that … you shouldn't be warned to prepare yourself psychologically for that, that somehow that's coddling, those people are lunatics," Schapiro said.
Lunch with Northwestern President Morton Schapiro#Northwestern pic.twitter.com/4SWn9Y7y2W

— Bridge CalendoSpaeth (@bridge1013) April 23, 2016
Whoever is doing Schapiro's therapy can probably tack on a few more sessions each month to deal with all those unforgettable microaggressions, as well as Schapiro's narrowmindedness.
First, the president makes an extraordinary assumption – a stereotype, you might say – by saying opponents of "safe spaces" are rich whites who do all they can to avoid people of color.
This does not describe anyone I follow (and I read this stuff every day, sigh) who warns about the dangers of administrators rushing in to fix every little problem a student might have. It certainly doesn't describe me, a middle-income guy living with my Chinese-American wife in a mostly African-American neighborhood in the city.
Indeed, Schapiro probably spends less time around black people than I do, judging by Northwestern's recent report on black student "alienation" on campus.
Schapiro then makes a straw-man argument that opponents of trigger warnings see them as undermining the First Amendment – rather than practically unwieldy and detrimental to intellectual engagement – which suggests he's never bothered to listen to a critic of trigger warnings.
He then launches microaggressions against people who disagree with him – calling them "idiots" and "lunatics" – while talking about microaggressions. (Hey, you can't spell "Morton" without "moron.")
Get the log out of your own eye
Ari Cohn at the Foundation for Individual Rights in Education isn't impressed either with Schapiro's hellfire sermon against the wicked who corrupt these precious young minds by teaching them what the world is like once they leave their gated community in Evanston.
He points out Northwestern's well-known attacks on academic freedom and Schapiro's "blatant hypocrisy":
Readers may recall that in 2014, Wendy Kaminer was accused of using an "ableist slur" for using the word "crazy" in an argument about the acceptability of saying taboo words in an intellectual setting. And inclusive language campaigns across the country draw attention to the alleged negative effects of words like "crazy" and "stupid" because they may demean those with mental health issues. So where does that leave Schapiro's use of "lunatics" and "idiots"? Schapiro is not only deliberately insulting those he disagrees with, but he is apparently doing so in a way that is—in his own worldview—offensive to marginalized groups.
In other words, Morty: "You hypocrite, first take the log out of your own eye, and then you will see clearly to take the speck out of your brother's eye."
Yes, I realize quoting Jesus of Nazareth to a Jewish person might be considered a microaggression. Oh well.
Like The College Fix on Facebook / Follow us on Twitter
IMAGE: RTimages/Shutterstock