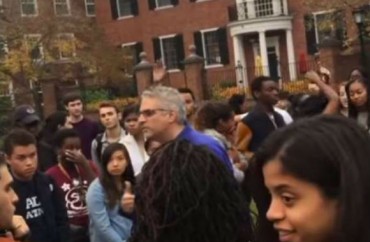 The American Association of University Professors typically focuses on threats to academic freedom and shared governance targeted at faculty.
One of its officials has now spoken up for student protesters at campuses across the country, crediting them with behaving … admirably?
Henry Reichman, who chairs the group's Committee A on Academic Freedom and Tenure, wrote in Inside Higher Ed that AAUP has historically backed students' right to learn and participate in the university's mission even when it upsets administrations.
RELATED: Assault and Title IX claims filed against Mizzou administrator, professor for attacking journalists
While those AAUP statements also circumscribe students' rights –  their causes must be pursued "by orderly means which do not disrupt the regular and essential operation of the institution" and they should be "consulted where feasible" in high-level personnel decisions – Reichman just isn't seeing many disorderly, threatening, bring-to-a-standstill protests:
In this light, despite all the hubbub, it is difficult to identify even a handful of instances where recent student protests have actually violated the rights and freedoms of anyone, including faculty members and other students.
RELATED: Student goes nuts in confrontation with Yale college master; many demand resignations
Let's see if we can help Reichman get up to this "handful":
Mizzou protesters (including a professor) threatening violence against journalists

Yale protesters mobbing and hurling profanities at a residential college adviser, then mobbing his living room

Dartmouth protesters mobbing a library and hurling profanities at students trying to study

Loyola University Chicago protesters (including student journalists!) keeping journalists away from their protest on school grounds

Smith College protesters doing the same thing – but letting reporters do their jobs if they express "solidarity"
RELATED: Flanked by administrators, Yale master apologizes to students for his wife's Halloween comments
And those are just high-profile incidents. You may protest that four of these schools are private, so they are not bound by the First Amendment, but these instances certainly violated the school's own codes that one person's free expression must not seek to prevent or chill another's.
Remarkably, Reichman seems to think that questioning the policing of offensive Halloween costumes is "odious."
He says students are "well within their rights" to demand the punishment of community members "who engage in odious behavior." In the next paragraph he refers to the rather mild email about Halloween costumes sent by Yale's Erika Christakis, who just resigned her teaching positions because her students are incapable of "civil dialogue."
RELATED: Black Lives Matter protest terrorizes Dartmouth; students pushed, shoved, cussed out
And Reichman praises protesters for, essentially, deciding not to act like grownups:
Here it's necessary to credit the students for their courage and determination in addressing the sometimes unconscious but nonetheless real and persistent racism that infects our society and our campuses. In doing so, they have made and will again make mistakes. They will offend others even as they respond to deeper offenses against their own dignity. They may demonstrate indifference to the rights of others, as protesters everywhere always have. But, in doing so, they will learn. And that, it seems to me, is the essential point. Student academic freedom, in the final analysis, is about the freedom to learn. And learning is impossible without error.
RELATED: Black student newspaper blocks mainstream journalists from covering 'safe space' at Jesuit school
To translate that: Gestures that no reasonable person thinks are racist show the "real and persistent racism" on campus; stopping others from expressing themselves is justified because of perceived "deeper offenses against their own dignity"; it's OK to functionally strip others of their rights as long as you "learn" from your attempt to silence others.
And silencing others is "about the freedom to learn."
RELATED: Yale master Erika Christakis quits teaching due to climate not 'conducive to civil dialogue'
RELATED: Yale students bring new demands to school president, administration
RELATED: Yale rebukes protesters who demanded firing of 'master' and his wife over Halloween comments
RELATED: Yale faculty give 'strong support' to master and his wife for Halloween costume comments
Like The College Fix on Facebook / Follow us on Twitter
IMAGE: Greg Lukianoff/YouTube