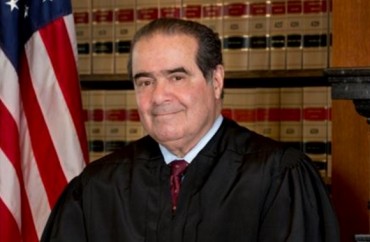 While the George Mason University faculty senate has passed a resolution asking for a delay in naming the law school after the late Justice Antonin Scalia, the law school's own faculty have overwhelmingly thrown their support behind the renaming.
"Overwhelmingly" might actually be too weak.
Last week the tenured and tenure-track law professors adopted a resolution 18-0-1 – that's right, zero nays and a single abstention – accusing the faculty senate of "ideological bias" and "unprofessional and dissembling conduct" for trying to "preempt the self-governance and academic freedom of the Law School's faculty."
Though they disagree amongst themselves about Scalia's jurisprudence, the law faculty all "recognize that he was among the most consequential figures in the history of the Supreme Court," the statement reads.
RELATED: Despite controversy, strong support found for renaming George Mason U. law school after Scalia
They said the "minimal conditions" on the $30 million in gifts to rename the law school are not "interferences with academic freedom," as the faculty senate claimed, "but reasonable exercises of the donors' rights to dispose of their property" that have no bearing on faculty governance:
The Faculty Senate's insistence that major gifts be accepted only following some kind of a public deliberative process is not a demand that has ever been made before, or since, the Scalia naming gifts were announced. The Faculty Senate is claiming to be acting to protect the academic freedom of University faculty even though their stated criticisms are specious, the faculty of the unit being re-named and receiving the grants supports both gifts, and the senators representing the Law School pointed out as much to other senators during Senate deliberation.
GMU President Angel Cabrera responded to the faculty senate by noting the gifts "do not require complex organizational changes" – they are simply funding scholarships – and it is a "customary courtesy" to tell major donors about "significant changes" in programs they support, such as replacing a dean: "The administration retains the authority to appoint or remove the dean of the law."
Cabrera also said there was nothing "unusual" about donors paying out major gifts "over time," as these gifts are structured. He told faculty who have accused any peer of "unethical conduct" to follow the process laid out in the faculty handbook.
RELATED: George Mason professors object to renaming law school after Scalia
The advancement office also responded to the resolution by saying the gift's conditions are proper and commonplace in major gifts, particularly for non-capital donations.
Like The College Fix on Facebook / Follow us on Twitter